APC-Obaseki: Murder on Democracy Day!
By Editor on 13/06/2020
Views: 583
On Friday, June 12, 2020, while Nigeria as a nation was marking its new Democracy Day, which reflects the historic essence of the election won 27 years ago by Chief Moshood Kashimawo Olawale (MKO) Abiola, the struggle that followed it and the eventual supreme price he paid, the All Progressives Congress (APC), chose to strike at the very vortex of that event to stump out whatever it represents.
That was the day the party, which, ostensibly rode to power on the back of sound democratic ethos, epitomised by a sitting President not only losing an election for a second term, but willingly accepting the outcome and congratulating the opponent that won, for the first time in the history of the country and even in black Africa, chose to land the most devastating blow to the heart of democracy.
Or how does anyone explain it? How would any sane country permit what has just taken place in this party regarding the disqualification of Governor Godwin Obaseki, of Edo State outside a bizarre animal kingdom of the Hobbesian era where might is right and life is short, brutish and nasty? It is condemnable and we condemn it in toto at Whirlwindnews.com!
Impunity has always been part of the political practice of Nigeria, as it is in other African or third world countries, the same way electoral roguery and all that comes with it.
It was out of impunity that a series of events were strung up to create one of the most destructive political upheavals in the country, known as Wild, Wild West. It was the outcome of this event that was later cited as one of the triggers of the two coups in the lead-up to the nation's three-year civil war that consumed more than three million of its citizens.
Now, a progressive country with eyes on hindsight would have learnt from this parlous and unedifying history. But what do you find? Each era, goes back to the same squalid political and social lifestyle, obviously in vain assumption that it will not end up the same way. Yet, it does. Yes, it does because there is no way a human being would drink poison and live. Poison kills, simplicita! That was why the second republic did not survive, because of their futile belief that they could run away with the 1983 landslide victory mantra.
During that sad event, the magnitude of electoral heists foisted on the people was such that their power to throw out bad leaders was so wantonly and arrogantly derogated and thrown overboard.
The leaders of that era, thus, created the fertile ground for the military to strike and chase them out of power, which consequentially began the 16-year stretch of military rule that greatly stultified the countries march to greatness.
Granted that there was no military to rely on to end another 16 years in which the government of the Peoples Democratic Party (PDP), once again hoisted another political behemoth, so strong and powerful that they even boasted that they would retain power for 100 years, but how did it end? In just few years, after, the same PDP is now out of power, practically eating their own words.
Expectedlt the APC ought to have learnt from that and taken a different curve by instituting a diverse political culture where democracy is built on the people and not individuals – where the recruitment process of political officers would not be left to one man in a fancy office or cozy bed calling on phone to instruct who should get what but the people – exactly what is being reflected in the instant case.
Yes! In the PDP era, the world was regaled with the sordid episode of how a governor was practically pulled away from his seat and taken hostage on his way to God-knows-where. It was a time where a candidate for a local government election must mount a billboard celebrating the picture of the President to show "loyalty" in order to get his endorsement as the only ticket to such a lowly political office – an era, where the result of an election would be announced while voters were still in the field – an era where a party chairman was forced to write his resignation letter with a gun pointed on his head, just for disagreeing with the President. Nigeria saw all of that.
Today, what is the picture? It is an era where an official of the Independent National Electoral Commission (INEC) a few seconds to announcing the winner of an election, receives a telephone call from the highest quarters in the land and instructed to suspend the result for further briefing because the victory must go a different way, an era, where the people are being told that it is okay to just say that you sat for an examination without the actual documents to back it up and months later, another person is being disqualified for not showing the same documents. How bizarre!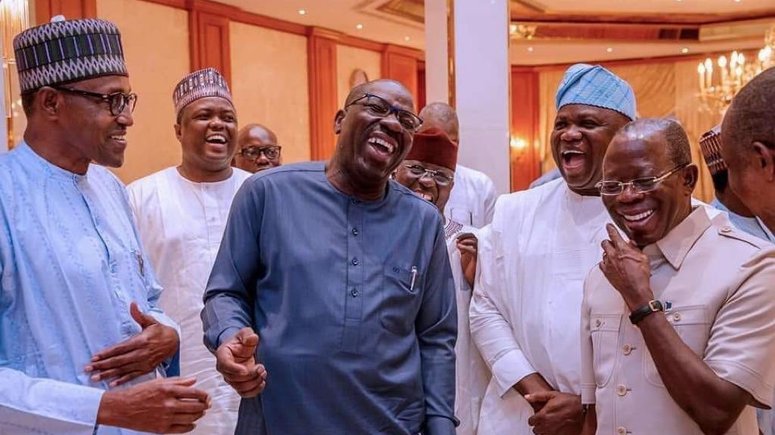 In the instant case, just like that of the INEC boss in the case above, the people involved are professors, holders of the highest academic qualifications in Nigeria's educational system that are co-opted to carry out these outlandish acts. Sadder still!
Yes! They are the selfsame academic gurus, to whom the task of training future generations of leaders is entrusted. They are the ones saying that they announced results under duress. Yes! Its not Professor Peller, the magician or the later day Professor Johnbull of the TV drama series, but an academic professor, telling Nigerians that a Higher National Certificate (HSC), has no place in Nigeria's education system. How bad can it now get?
What then are the expectations in this eerie development? They have experimented in Lagos and succeeded. In Lagos, Akinwunmi Ambode chickened out half-way without giving a fight that many had expected for his second term in 2019.
Now, in Edo, where they met resistance, they have upped the ante by adopting a different strategy of disqualification. Apparently, they had believed that he would have thrown in the towel as well like his Lagos counterpart.
No one knows how far it would get from here. But if they succeed this time, expect it to get weirder. The current news that Obaseki is moving to the PDP, is obviously going to send them into wild celebration, instead of trepidation because they know that angle is already taken care of.
Because INEC, as presently constituted, as a department of the APC, would take instructions rather than stand with the people, they know this is an opportunity to show the governor where the power really lies.
In the end, he may end up losing his own polling booth and ward, on the day of the election, if the PDP or any other party eventually adopts him as a candidate, as a way of "proving" to the world that his people have "rejected" him.
Yes! If indeed election is about the people and that of September is going to be about the people of Edo State, the APC would not have been so brazen. It would have been wise and prudent in its decision to consider that outside just picking a candidate, there are people out there who would have to make the ultimate decisions.
Such a circumspection would have been enough to question a situation where its National Chairman, Adams Oshiohmole, would openly tell the world before beaming television cameras the same Osagie Ize-Iyamu, whom only three years ago, he described as a brigand, who poured raw acid on a student – whom he swore to waive his immunity to allow prosecution for libel – who never qualified as a full-fledged lawyer, is now cleared as a candidate while Obaseki, who he praised endlessly for earning his academic excellence, is no longer so qualified.
Of course, such an explanation would not matter. If it never mattered in other cases, why should it matter now? Why should the people being told the truth about the bone of contention between him and his successor, whom he told the crowd of cheering supporters was the backbone of his "monumental" successes in the state during his eight years matter?
Yet, the true answer to the raison d'etre to that political war, would probably save the nation another round of outlandish political development that could lead to anything from sorrow tears and blood (Fela Anikulapo Kuti), to another buildup that would continue to make Nigeria a laughing stock in the world. We have heard good for nothing, before. Now, it is likely to be the hollow giant. God forbid.
Source Whirlwindnews.com
Posted on June, 13 2020
---
You may also like...

How PDP's dwindling fortunes began

What we learnt from judgment on Anambra Central...

Buhari's June 12 gambit: All politics, many contradictions...

Buhari's June 12 Declaration: A thin line between...

On education, Tambuwal chooses the best part

Senate screening: Will Amaechi cross the hurdle to...

Kano guber tribunal verdict: A case of no...

Before Sankera, Suswam's people sing their political dirge...