Reopening Anambra state economy: Why Gov. Willie Obiano must urgently rethink it through
By Tiko Okoye on 27/04/2020
Views: 811
Okoye
I seriously doubt if any of his top aides or close friends would draw the kind attention of Governor Willie Obiano - "Ebekuodike" - to this two-part series early enough to influence his decisions at his impending meeting with leaders of markets in the state. Nevertheless, I have satisfied my conscience that I chose to speak when it was tantamount to a heinous crime to stay silent. Truly, truly, did our elders aver that it is only a tree in a forest that eavesdropped on loggers discussing how to hew it down but still opted to remain rooted in the same spot. The rest of the matter best remains in the hands of God.
Last Saturday, April 25, 2020, Governor Obiano addressed Anambrarians by way of a radio and television broadcast - the second time since the crisis of the novel coronavirus pandemic landed in the state by way of a first index case. The highlights of the address/update are three-fold: (1) That all food markets, including restaurants and bars - are to reopen for normal business with immediate effect; (2) That he would immediately meet with the leaders of all the markets in the state to agree on when (not if) to reopen the markets; and (3) That all restraints on free movement within the state are lifted with immediate effect.
Of course, the governor mentioned for good effect that Anambrarians must continue to comply with the globally accepted COVID-19 protocol of regular hand washing, regular use of hand sanitizers and other social distancing rules.
One fully understands the enormous pressure the governor must be subjected to since the viral nightmare manifested itself. Governments not only in Nigeria but all over the world are grappling with making extremely complex and very uneasy decisions about introducing or enhancing or easing or lifting lockdown orders and physical (social) distancing measures introduced in the wake of the ravaging viral infection.
In Nigeria, in particular, there have been increasing agitations over what is seen as untold hardships foisted on more than 80% of the population who are daily wage earners and impending starvation as a result of the stay-at-home order.
With the price of crude oil plummeting to under $30 per barrel, future prospects appear very bleak and gloomy for relatively low-IGR states such as Anambra that are heavily dependent on the monthly allocation from the federation account to keep their heads above the swirling waters of economic survival.
Economic and financial experts are already forecasting massive job losses, business closures and grinding poverty around the globe with the most adverse fallouts to be felt in developing countries. Obiano's proclamation might therefore be rightly construed as adopting appropriate proactive steps needed to stave off the predicted evil happenstances - or at least keep them at a manageable level.
There is ideally no one-size-fits-all approach or magic wand to resolving the twin horns of dilemma - be damned if you go out (community transmission of the coronavirus and likely death) and be damned if you remain at home (rising hunger and likely death from starvation)! But that is exactly why these extremely difficult times call for patience, endurance and thinking out of the box. It is not exactly the time to seek to solve one problem only to create an even bigger one.
I have no problem with the governor's order to reopen food markets - including restaurants sine bars - with immediate effect, as long as the globally accepted COVID-19 protocols are complied with. As a matter of fact, I am very surprised that food markets were not exempted in his first address seeing that they are part and parcel of essential services providers exempted by the federal government and governors who had similarly invoked lockdown orders.
That they were not exempted in Anambra State may be indicative that the first order was the product of a poorly thought-out panic reaction. But in a bid to be more proactive second time around, Gov. Obiano must guard against committing what accountants call the "error of overcompensation" i.e. trying to correct a weakness or mistake by doing too much of the opposite thing!
In his broadcast, the governor disclosed that the state government sent 68 tests out of which only one - the index case - returned positive, hence his decision to - in the governor's own words - "let in some fresh air." So the "speedy" recovery of the state's index case and the negative result in 67 tests led Obiano to believe that the state has made the "necessary preparation" required to fight COVID-19 to a standstill. Really? How? I fear that while his action may be well-intentioned, the governor might just be letting in a gale of evil wind likely to lead to a resurgence of infections, diseases and deaths!
It was recently disclosed that the director-general of the Nigeria Centre for Disease Control (NCDC) and the World Health Organisation (WHO) representative on the Presidential Task Force (PTF) on COVID-19 just returned from a tour of six states - Anambra inclusive - to assess and standardise their infrastructure and their state of readiness.
Your Excellency, since the duo are yet to submit their visitation report to the PTF that will in turn make recommendations to President Buhari, are you by your proclamation implying that you have already been unofficially given a clean bill of health that the right healthcare infrastructure is fully in place and that Anambra is now in a full state of readiness to handle whatever may occur?
It beggars belief where this overconfidence in the case of Anambra is emanating from. Need I remind the governor that less than 1% of Anambrarians have undergone any form of reliable testing? Need I also remind the governor that because of her highly mercantilist character, many Anambra residents and indigenes regularly embarked on foreign business trips where they most likely were exposed to the virus in the early days when practically little was known about it and returnees were not subjected to any form of quarantine or self-isolation? Only God knows the untoward havoc they have wrecked through community transmission!
Your Excellency, do you mean to say that with the number of new cases leapfrogging in states like Lagos, that there is no cause for alarm in Anambra State as if the state suddenly acquired some kind of island immunity? My pro-people governor, is it not better to err on the side of caution when you particularly consider the peculiar case of Kano State?
As recently as 2-3 weeks ago, the governor, Abdullahi Ganduje, was all over the moon about the non-occurrence of coronavirus-related incidents in his state. And then came the case of its index case, a retired diplomat, who eventually died.
Although the governor was taken aback by the relatively large number of people who were potentially in grave danger through contact tracing, he still dilly-dallied on locking down the state. Worshippers continued to amass in large numbers in churches and mosques even as stadiums were filled to the rafters with fans gathering to watch football games. But the tale has completely taken a different twist today with the talk of a high incidence of "mysterious deaths."
Legendary blind Greek poet Homer, in his magnus opus, "Iliad," posited that "It is not strength, but art, obtains the prize; and to be swift is less than to be wise." Truth is that until credible universal testing can be conducted or a vaccine is found, our healthcare systems and approach to stopping transmission of the virus must continue to evolve along with the pandemic.
With the numbers of new cases and deaths rising daily in a geometric progression it simply makes no sense to throw caution to the winds. My dear governor, is it not more reasonable and logical that in the absence of vaccine or drugs, Non-Pharmaceutical Interventions (NPIs), such as social distance, hand washing/sanitizing and restraint on movement, remain the most effective way to contain the spread of the disease and protect Anambrarians?
Your Excellency, what is really the fear that is driving what is obviously an indecent haste to reopen the economy? Is it a case of dearth of funds to pay salaries and implement other development programmes as the economic situation goes from bad to worse? Then Lagos that is confronted by a worse scenario - massive loss of the IGR it so necessarily needs - should be in the front of those rushing to reopen their economies. But Lagos State is not. And for very good reasons too!
33rd US President Harry Truman it was who noted that "There is nothing new in the world except the history you do not know." A refusal to be guided by history culminates in lightning tragically striking twice in the same location. Politicians in San Francisco, California and Mesa County, Denver, Colorado - during the influenza epidemic - rushed to reopen their economies, ostensibly to ameliorate the challenges of burgeoning unemployment, business closures and starvation. But then far more deaths were recorded in a single day than the weeks and months of lockdown put together! There is a popular adage in Igboland to the effect that "Adigh agwa ochi-nti n'agha esugo!"
Back to Homer again. Connoisseurs of ancient Greek literature would recall the indefatigable and irrepressible mythical hero of most of his epic tales called Odysseus. He once found himself between the two sea monsters called Scylla (a six-headed creature that swallows a sailor for each head) and Charybdis (an enormous whirlpool that wrecks and swallows the ship). In Greek mythology, both sea monsters had, prior to the arrival of Odysseus, wrecked every ship and killed every sailor that had attempted to navigate through the highly dangerous narrow strait separating them.
But Odysseus passed through unscathed by a combination of good fortune, thinking out of the box and deploying uncommon wits. The moral of the tale is that no matter how bad a situation, there is always a way out because there is always a way where there is a will. But the solution demands thinking out of the box rather than resorting to a normal business as usual approach. As a matter of fact, it is naivety of the highest order to expect that things can ever be 'normal' or 'usual' post-coronavirus.
Whenever Gov. Obiano meets with the leaders of the markets in the state, he must strive to procure their buy-in on why keeping the markets closed for a little while longer is in the best interests of Ndi Anambra and broadcast a third address to the people telling them why the restraints on free movement within the state must be regrettably restored – but still subject to periodic review. Anything else would simply further satiate the lusts of a significant proportion of the population living in denial and believing that COVID-19 is a disease of foreign countries and wealthy people!
Your Excellency, insisting on forging ahead with your decision to reopening the economy with all the glaring facts and statistics suggesting otherwise can only mean one thing, which I do not believe a governor like you who has demonstrated time and time again that the life of a single Anambrarian matters, can even begin to contemplate.
Your action would be predicated on what is known as herd or community immunity i.e. the acceptance that the death of a "relatively small" number of people is a regrettable but unavoidable high cost to pay in the interest of the maximum number of Anabrarians. How come? Because those who ultimately survive the pandemic - treatment or no treatment - would have acquired the necessary immunity by developing the right anti-bodies! I do not want to believe that this Machiavellian apology of the survival-of-the-fittest is a burden and baggage you really want to bear.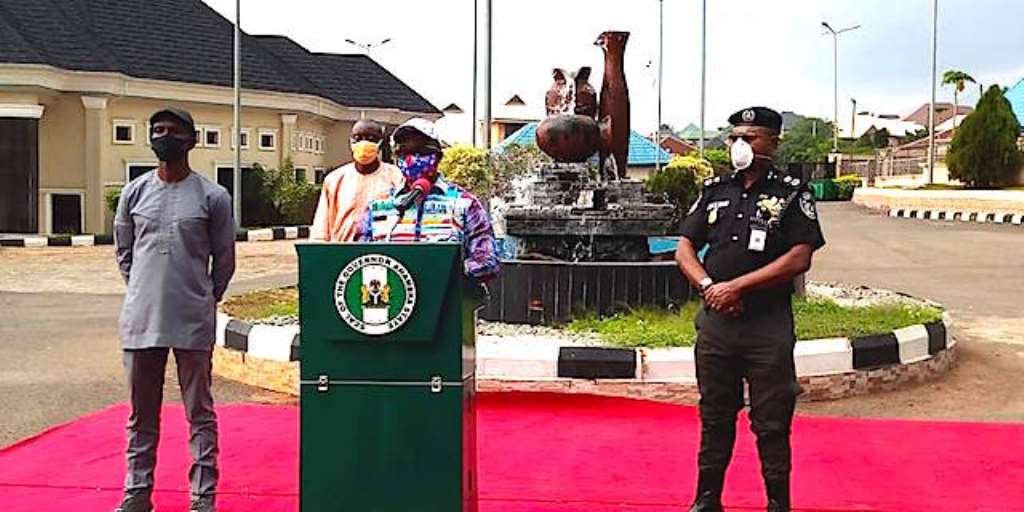 Ndigbo are very famous for self-help communal projects and being our brother's keeper ("Onye aghana nwanneya"). Again, we very ably demonstrated to the world at large during the civil war that nobody can beat Ndigbo's ingenuity when it touches issues of survival. After surviving 28 days of lockdown, a couple more weeks or so would make little difference. We survived 42 months of starvation during the civil war. Fortunately for us, there is no economic blockade this time around.
And unless you have an insatiable appetite for Thailand rice, you must readily concede - whatever may be his other shortcomings – that the gains of Buhari's agricultural policies have manifested in a high level of food security, even if prices have risen as they ought given the prevailing circumstances. What remains to be done is to determine how to reach the most vulnerable segments of the population – the poorest of the poor, wage earners and hard-pressed small business operators.
Fortunately for Anambra, we have an unparalleled, although unofficial, fourth tier of government – the town unions. The Anambra State Government can use the Presidents-General and traditional rulers acting through age grade and umunna networks as well as faith-based organisations to quickly generate a register of the most needy among the various communities.
In this way, whatever the federal government provides as assistance to the state coupled with the state's own palliative measures and donations from empathetic individuals and organisations can reach the intended destinations in an accountable and transparent manner.
This is hardly the time for kleptomaniac officials to allow their avarice and greed to overwhelm them, else may the curse of COVID-19 rest on them and members of their families forever and ever. Amen!
Okoye, Anambra State indigene and financial inclusion expert residing in Abuja
Source Whirlwindnews.com
Posted on April, 27 2020
---
You may also like...

FULL LETTER FROM ALHAJI SHEHU SHAGARI TO BUHARI...

The best man lost

Alleged tax certificate fraud: Double jeopardy for Ikpeazu...

*Biafra At 50….We are The Problem*

Why restructuring is a win-win for all Nigerians...

COVID-19 and Kwara's capacity to hold its own...

The real price of "changing the change" (1)...

CBN's cashless policy: Rich gains, fresh challenges