Returning Serena tests defeat at Abu Dhabi ahead Australian Open
By Editor on 30/12/2017
Views: 252
Pained Djokovic ruled out of Australian Open
Serena Williams was "excited to be back" after completing her first match since giving birth fourth months ago.
The exhibition match in Abu Dhabi against Jelena Ostapenko was the American's first match for 11 months.
Williams struggled with her movement at first but played some fine shots in a 6-2 3-6 (10-5) defeat.
Australian Open director Craig Tilley has said Williams is "very likely" to defend her title at the 2018 tournament, which starts on 15 January.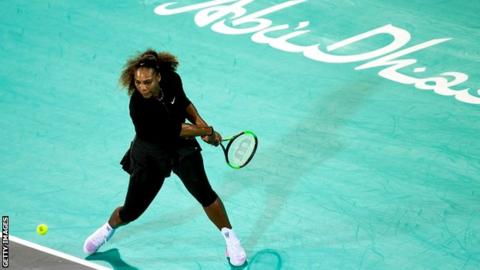 Ranked 22nd in the world, Williams would not need a wildcard to play in the first Grand Slam tournament of the new season.
"I'm excited. It's good to be back on court, this is such a good time for me," Williams, 36, told Eurosport.
"Motherhood is phenomenal. I was a little worried out there - I looked at my camp and asked, 'Is Olympia OK?"
She initially struggled to get enough power behind her serve and missed several straightforward shots as French Open champion Ostapenko claimed the first set.
The Latvian pushed her opponent wide, with Williams' movement looking sluggish at first.
However, she found more timing as the match progressed, increasing the speed on her serve and moving well inside the court.
A fine lob over Ostapenko was the highlight of the second set but the Latvian, who stunned Simona Halep at Roland Garros in April, overpowered her in the tie-break.
Source BBC
Posted on December, 30 2017
---
You may also like...

NSITF warns employers on worker's welfare *Threaten prosecution...

Bye election: Borno PDP Senatorial hopeful banks on...

BREAKING: Barcelona settle for Dembele as Neymar's replacement...

Dream Team Arrive Nigeria Tuesday, battle Egypt, Senegal...

Official: Iconic Brazil Footballer, Ronaldinho quits playing career...

BREAKING: Magu finally disgraced *Again rejected by Senators...

Time up for Arase as FG shops for...

Ahead May 29, tension builds up in Benue:...