Christmas: Pope demands peace for Jerusalem, pleads for Migrants
By Editor on 25/12/2017
Views: 227
US President, Trump
Pope Francis has used his traditional Christmas Day message to call for "peace for Jerusalem" and dialogue between Israelis and Palestinians.
Acknowledging "growing tensions" between them, he urged a "negotiated solution... that would allow the peaceful co-existence of two states".
US President Donald Trump recently announced that America recognised Jerusalem as the capital of Israel.
The controversial move drew international condemnation.
Last week, UN members decisively backed a non-binding resolution that said any decisions regarding the status of Jerusalem were "null and void" and must be cancelled.
Palestinians want East Jerusalem as their future capital, and all countries currently keep their embassies in Tel Aviv.
The Roman Catholic leader gave his Urbi et Orbi speech, which in Latin means "To the city and world", in Saint Peter's Square.
"On this festive day let us ask the lord for peace for Jerusalem and for all the Holy Land," he told the crowd.
"Let us pray that the will to resume dialogue may prevail between the parties and that a negotiated solution can finally be reached, one that would allow the peaceful co-existence of two states within mutually agreed and internationally recognised borders."
The pontiff's speech touched on other pressing international issues, from the migration crisis to the conflicts in Syria and Iraq, from Venezuela to North Korea.
Guatemala has said it plans to move its embassy in Israel to Jerusalem, following Mr Trump's announcement.
It joined the US and Israel, and Honduras, the Marshall Islands, Micronesia, Nauru, Palau and Togo, in voting against the UN resolution.
However, 128 countries backed the resolution while others abstained.
he life of Jesus, the city is also one of the holiest places for Christians.
The city's status goes to the heart of the Israeli-Palestinian conflict.
Israel regards Jerusalem as its "eternal and undivided" capital, while the Palestinians claim East Jerusalem - occupied by Israel in the 1967 Middle East war - as the capital of a future Palestinian state.
Israeli sovereignty over Jerusalem has never been recognised internationally and, according to the 1993 Israel-Palestinian peace accords, the final status of Jerusalem is meant to be discussed in the latter stages of peace talks.
Since 1967, Israel has built a dozen settlements, home to about 200,000 Jews, in East Jerusalem. These are considered illegal under international law, though Israel disputes this.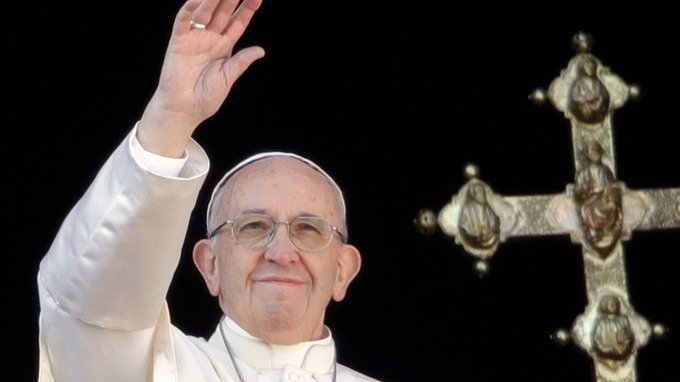 Catholic Pontiff
Source Agency Report
Posted on December, 25 2017
---
You may also like...

War on judges: DSS invades Abuja judges' quarters,...

I am not desperate to continue in office...

Anxiety in Aba as Ikpeazu, Police allegedly crackdown...

BREAKING: Martial fires United to FA Cup final...

Gunmen slay PDP chieftains in Benue

Ethiopia declares state of emergency as Zimbabwe clamps...

US names 40 Nigerians for 2015 Mandela Washington...

Trump on 9/11 anniversary: "Our nation will endure,...