BREAKING: Senate rubbishes 2018 budget proposal *It's full of padding, inaccuracies
By Editor on 19/12/2017
Views: 428
Members of the Senate at the plenary today criticised the 2018 Appropriation Bill presented to the National Assembly by President Muhammadu Buhari.
At the resumption of Legislative proceedings, Senators complained that 2018 budget is filled with inaccuracies, budget padding and inconsistencies.
The Senate is maintaining that it cannot complete work on the 2018 budget in January as requested by the Executive.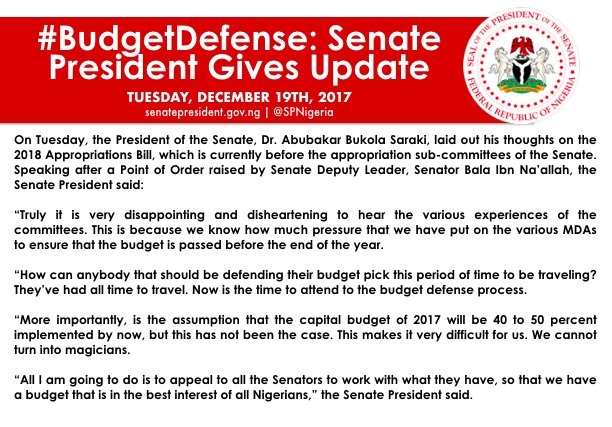 Source Whirlwindnews
Posted on December, 19 2017
---
You may also like...

UPP to Umeh: Shut up! *APGA is haunted...

2018 FIFA U-17 Women W/Cup: Flamingoes draw close,...

BREAKING: Corruption charges: Court declares Fani Kayode a...

My businesses not standing on stolen funds, Atiku...

Fuel scarcity: Senate launches probe, summons NNPC GMD...

BREAKING: Hard-fighting D' Tigers break 12-year year jinx,...

BREAKING: Jonathan presents handover notes to Buhari

Uncertainty in Zimbabwe as Army forces cage Mugabe...