'Molested' female passenger: She is our staff, I'll personally deal with her – FRSC boss
By Editor on 18/12/2017
Views: 1,204
Remember the female passenger, who was seen being beaten by a man in the uniform of the Federal Road Safety Corps (FRSC), whose video went viral on the social media and attracted a huge public condemnation?
Well, the true story is that she is the culprit, rather than the victim and for this reason, is going to face severe disciplinary actions, from no less a person than the Chief Executive Officer (CEO) and the Corp Mashal, Boboye Oyeyemi, himself.
This much, was disclosed by the FRSC boss, Monday morning, while stating the latest on the matter, which had engaged public discourse on the social media, especially amongst contending personalities and interest groups, especially as women liberation advocates escalated the matter, insisting that a man must never hit a woman no matter the provocation.
Boboye, who spoke on Channels Television breakfast programme, Sunrise Daily, explained that it was actually the lady that was harassing the uniformed male FRSC officer, after committing a traffic offence, without disclosing her identity, because she was a superior officer.
His words: "Let me make a confession here. We have investigated the matter and discovered that the lady involved is our staff and I have taken it up and will personally deal with her. She will be severely punished. I can assure you of that.
"What happened is that she did not show the public the full video, she only showed one side where it appeared she was the one being molested, while in truth, she was the one who attacked the man, slapping and beating him. The man only defended himself.
"There is no excuse for what she did. She was just showing that she is a superior officer and I will not take that. I have always insisted in my years on discipline and we are going to ensure that we apply the full punishment to ensure discipline is maintained."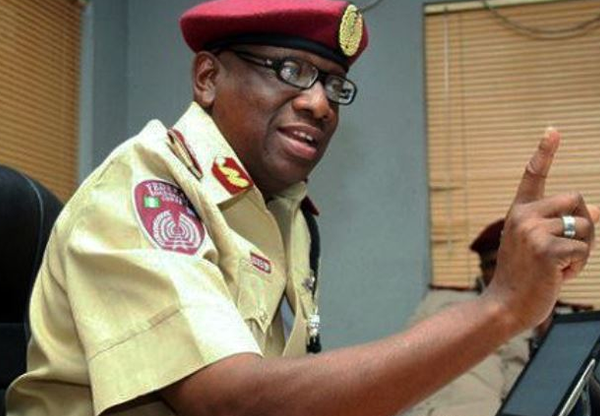 Oyeyemi
Oyeyemi, also had a word for some people complaining about the harshness of the FRSC punishment for traffic offenders, saying the antidote was for them to avoid committing the crime.
He even advocated for harsher punishment, saying that instead of issuing a fine of just N4,000 for offences such as wrong driving or using a phone while driving, such a fine should be jacked up to between N50,000 and N100,000, to add to the other procedures such as investigating the "emotional balance" of the offenders and getting them pay for it.
"Punishment for traffic offences is meant to be a deterrent and offenders must be made to feel the impact. We are already before the National Assembly to increase the fines and our proposal is that the fines should be harsher to serve as deterrents," he said.
He also said that the corps had also assembled some of its personnel to assign to long-distant travelers, not conversant with driving themselves, once conditions were met.
His words: "Driving is a skill. There are some people who can only drive in cities, such as going on school runs, driving to the markets and to their offices within the cities, but cannot drive long distances. We have our men who can provide them with the services of driving them to long distances at a fee. It's something we have been providing. Once the person can pay and we pay our men their allowances, they will be at their disposal. So, let them avail themselves of the service at this time of the yuletide."
Source Channels TV
Posted on December, 18 2017
---
You may also like...

Flying Eagles captain 'vanishes' from U-23 Camp

Champions League: Real conquer Atletico, set up Juventus...

INCREDIBLE FEDER!: Beats Wawrinka, zooms into Australian Open...

Federer replaces Nadal as World oldest number one...

BREAKING - Red card: PDP fires Ifeanyi Ubah,...

Massive war breaks out in Delta, as Okowa,...

Ekiti crisis: Fayose shifts ground, APC Lawmakers stay...

2019: Buhari widens consultation, keeps APC Governors waiting...