Humiliation! Zimbabawe Police arrest four for booing President Mugabe's wife
By Editor on 11/11/2017
Views: 820
Mugabe and wife
Four people were arrested on Friday for booing Zimbabwe's first lady Grace Mugabe while she was addressing a political rally.
Police spokesman, Charity Charamba confirmed the arrest, accusing those in detention of undermining the authority of the president.
"I can confirm the arrest of three adult males and a female," he said.
"The president of the Republic of Zimbabwe was the guest of honour at the rally and what they did was tantamount to undermining the authority of the president."
The four allegedly shouted that they hate their president's wife and booed her when she was speaking in Bulowayo, on Saturday.
If convicted they could face a year in jail.
There has been a crackdown on freedom of expression in the southern African nation in recent months, with a US woman arrested for allegedly calling President Robert Mugabe "a goblin" in a tweet.
Martha O'Donovan, 25, faces 20 years if convicted on charges of subversion.
Ninety-three-year-old Mugabe and his politically ambitious wife are allowing no room for dissent ahead of pivotal elections next year.
This week, Mugabe axed his long-time deputy Emmerson Mnangagwa, who was Grace Mugabe's main competition in the race to succeed the president.
Political analyst, Earnest Mudzengi, said that the arrests show that Zimbabwe's first family will not tolerate criticism.
"Grace is forcing people to accept her. Honestly, one should not be arrested for telling someone that you dislike her," Mudzengi said.
Mugabe, who has been in power for over 30 years, has been accused of election-rigging, human rights abuses and destroying the country's once vibrant economy.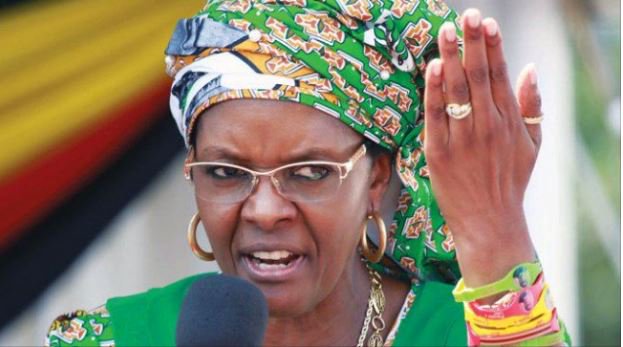 Grace
Source Agency Report
Posted on November, 11 2017
---
You may also like...

Police arrest MP who sent female colleague to...

Nigerian dies in Japanese detention cell *He's on...

INCREDIBLE: Thieves steal N1.8 billion solid gold toilet...

Fuel subsidy: Senate launches probe on NNPC, CBN...

Surrogate mother dies of birth complications

BREAKING: For killing 'innocent' Civilians in Borno, Court...

JAMB: There was massive fraud in 2019 UTME...

500 ex-Fayose appointees move into APC *You're welcome...