87-year old man weds 40 year-old Woman to ease off loneliness
By Editor on 18/10/2017
Views: 538
Rivers Governor, Nyesom Wike
An 87-year-old lawyer and former lawmaker, Senator Cyrus Nunieh, said he decided to marry another wife because he was alone and needed a companion.
Nunieh officially married a lady in her 40s on Tuesday at the Presidential Hotel in Port Harcourt, the Rivers State capital.
The former member of the National Assembly, who said he was now a king in Ogoniland, Rivers State, explained that he had been alone after his former wife died in 1991.
Speaking with our correspondent on the telephone, Nunieh pointed out that his children were all adults, who had ventured into various business of their own, adding that he could no longer cope with loneliness.
He described his new wife, Rosemary, as an intelligent woman, who would always be there for him and share ideas with him.
"I cannot continue to stay alone. I love her and she loves me. We understand each other and she is also intelligent. In marriage, there are advantages somewhere and disadvantages in other areas.
"There is no limitation in age. Some may say you are old; you may soon die. But some were dead even before they were born. Some were one year or two years old and they die. Death is not always dependent upon a man's age," he said.
About her new wife, Nunieh said, "You know that rose is the best of all flowers and we have two Marys in the Bible; we have Mary, the mother of Jesus and Mary Magdalene.
"She too (Rosemary) is a believer of the Bible. But why are you particular about her age? She is not an infant. She is a very charming woman."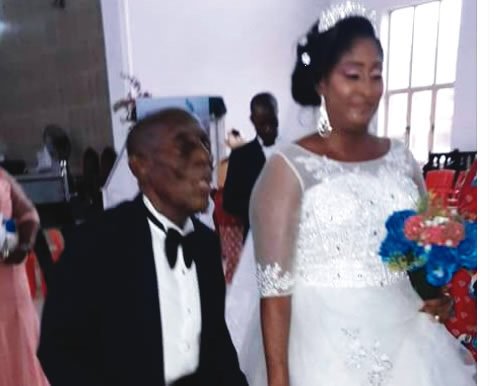 Nunieh and Wife
Source Punch
Posted on October, 18 2017
---
You may also like...

185 suspects languishing in Warri prison

Full text of Donald Trump's victory speech as...

Igbo, Yoruba, N'Deltans, Middle belt join forces against...

Boko Haram: Focus more on helping Nigeria, Jonathan...

Osinbajo blows hot, gives Tax payers nine months...

Quit notice on Ndigbo: Osinbajo reads riot act...

BREAKING: I'm pregnant, Serena Williams announces; to miss...

Budget padding will never happen again, I'll see...