BREAKING - NNPC N640bn Contracts: Osinbajo takes responsibilities for approval
By Editor on 12/10/2017
Views: 361
Vice President Yemi Osinbajo has taken responsibility for granting authorisation to the NNPC for two oil contracts worth N640 billion.
A statement by presidential spokesperson, Laolu Akande, said Mr. Osinbajo approved the contracts in his capacity as acting president in July.
"In response to media inquiries on NNPC joint venture financing, VP Osinbajo, as Ag President approved recommendations after due diligence," Mr. Akande said.
The NNPC had stated in the response that two presidential approvals were granted to the NNPC for contracts with Shell Nigeria and Chevron at the rate of $1 billion and $780 million respectively.
In a letter to President Muhammadu Buhari, Kachikwu listed some of the contracts as "crude term contracts valued at over $10 billion, DSDP contracts valued over $5 billion and AKK pipeline contract valued approximately $3bn.
"Others are various financing allocation funding contracts with the NOCs valued over $3 billion as well as various NPDC production service contracts valued at over $3 billion to $4 billion".
But the NNPC dismissed the allegations as "baseless", maintaining that it followed due process in awarding contracts.
The company had also said Kachikwu's consent was not needed in the award of the contracts which he complained about.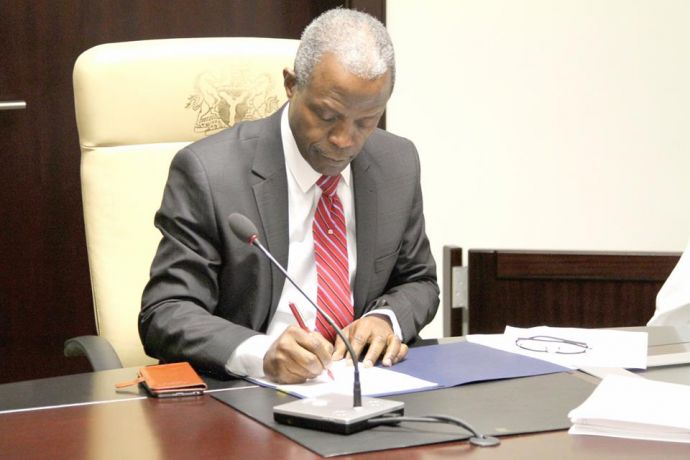 Osinbajo
Source Press Release
Posted on October, 12 2017
---
You may also like...

Ighalo turns down £300,000-a-week Chinese offer

BREAKING: Osinbajo in Benue, attends mass burial for...

Why Peace C'ttee rose against Buhari *The world...

Buhari assures of signing 'Not too young to...

Anxiety mounts in Imo as Okorocha insists on...

13,000 more CCTV cameras coming for Lagos streets...

Another messy expose on Trump: Always chancing on...

BREAKING - Champions league: Barcelona smash Chelsea, march...