BIZARRE! Kaduna man intentionally takes mud water to fulfill promise made on Buhari's return
By Editor on 20/08/2017
Views: 884
Buhari on board Aircraft on Saturday
Nigerian man from Zaria, Kaduna state, simply identified as Muh'd Kabir Wusasa celebrated President Buhari's arrival from London in a bizarre way. Wusasa took to his Facebook page to reveal he has drunk mud water.
According to him, he had promised to do so if Buhari should return to Nigeria hale and hearty from his medical trip abroad. And that he did on Saturday, August 19, 2017 as the president returns.
He shared his photo taking the dirty muddy water and captioned it in Hausa: "Kyawun Alkawari Cikawa Idan Kanaso Ka Zama Cikakken Mutum Idan Kayi Alkawari Kayi Kokari Ka Cika. Nayi alkawari duk randa Shugaba Buhari ya dawo gida Nigeria daga jinyar da ya tafi Birnin London, zan sha ruwan kwata saboda zunzurutun Farin ciki. Alhamdulillah! Allah ya cika mini gurina ni kuma na sha ruwan kwata."
When translated it means: "The full covenant of the covenant if you want to become full member when you make a covenant try to fill. I promise every day that President Buhari returns to Nigeria from his trip to London, and I will drink mud water because of the pain of depression. Alhamdulillah! God filled me with my head and drank water."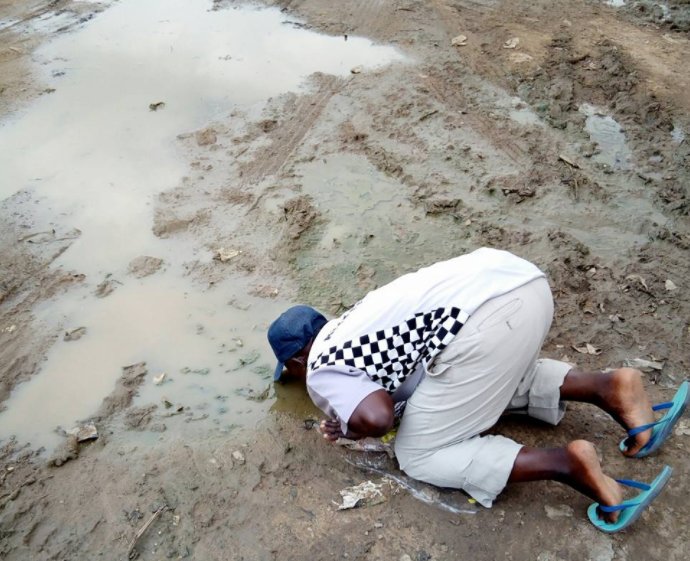 Posted on August, 20 2017
---
You may also like...

Thugs seize over 3000 PVCs in Ebonyi

Shocker: Kastina Gov's Aides crushes own daughter to...

We must re-engage the world – Buhari *Says...

BREAKING: Mayweather escapes death, as gunmen chase his...

AMAZING: Tomb raiders go for multi-million Michael Ibru's...

Panic in Ganduje's camp after court nullifies another...

Kidnapped Kwara APC chieftains regain freedom

My daughter is five months pregnant, Ese's father...