Reactions trail CNN GPS Programme on Buhari's long health vacation in London
By Editor on 31/07/2017
Views: 321
Buhari
Reactions have continued to trail popular CNN televised GPS challenge programme after the host Fareed Zakaria used President Muhammadu Buhari's absence to contruct a question on Sunday.
This monday make it exactly 85 days, barely three months since Buhari travelled out of the country — and reports of his absence have continued to dominate news headlines locally and around the world.
Talking about the poser on an international medium, vocal Governor Ayo Fayose of Ekiti state using his Twitter account @GovAyoFayose described it a national disgrace adding; ''I hope those who brought this shame upon our country will be honest enough to apologise and seek forgiveness. We warned. God help Nigeria.''
On his part, Reno Omokri, who took to his twitter handle also wrote: "Look at how President Muhammadu Buhari has turned Nigeria into the laughing stock of the world on @CNN ! Look at the challenge question!"
"If you don't believe PMB is a hypocrite, please look at these headlines. Nigeria has learnt the hard way that change is not always progress!," he added.
It would be recalled the American journalist, during a segment called 'GPS challenge,' posed a trivia to viewers of his show.
The question reads; "The head of state from which country has not set foot in his homeland in over two months?" read the trivia which had multiple options, including Syria, Saudi Arabia, Cuba and Nigeria.
President Buhari has been in the UK since May 7, where he has been receiving medical treatment.
Though he has been rarely seen in public since his trip, news of his improving health and wellbeing has been widely reported as well as photos of him receiving seven governors that recently paid him a visit in London.
Acting President Yemi Osinbajo, who had also paid Buhari a visit, announced that he would soon be back home.
This is the second time the president is visiting the UK for medical vacation in 2017, the first being shorter than the present.
Governors and several public figures have come out to defend Buhari's absence, and to say he has made a miraculous recovery.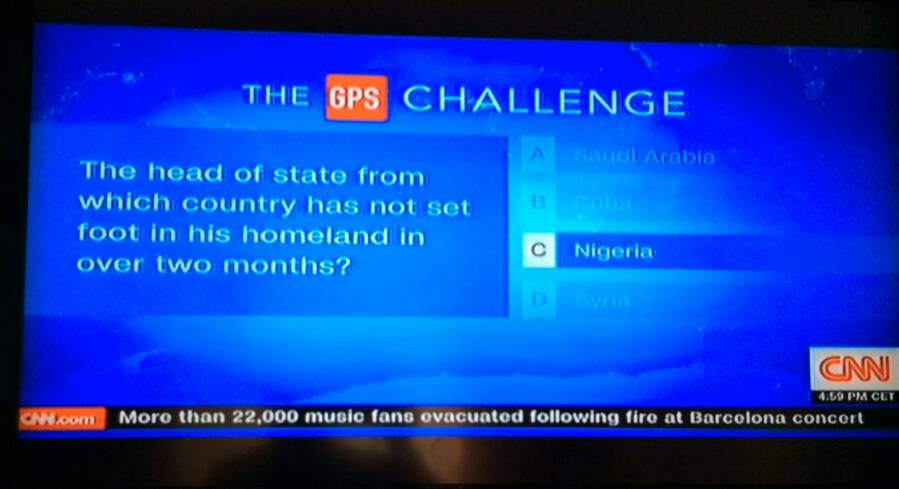 Source Whirlwindnews.com
Posted on July, 31 2017
---
You may also like...

Nigerian problems won't cross over to 2017 –...

Reps reject Buhari's $30 billion loan, demand accountability...

EPL: Aubameyang, Sanchez score on debut as Arsenal,...

'Emotional' Bolt thunders to 100m triumph in Kingston...

BREAKING: Super Serena slam! Serena is 2015 Wimbledon...

Comment on Dasuki, Zakzaky: Falana calls for Buhari's...

‎Oil price: Kachikwu still hopeful on consensus

Siasia pick 'killer' Squad against Zambia