Mild drama as Osinabjo unites Wike, Amaechi, Senator Abe in Portharcourt
By Editor on 27/07/2017
Views: 1,111
Osinbajo
It was a mild drama on Thursday as the Acting President, Prof. Yemi Osinbajo, was escorted to the commissioning of some projects in Rivers State by Minister for Transport, Rotimi Amaechi and Senator Magnus Abe.
It started when Amaechi stepped out of the Presidential Jet, with shouts of "the Lion" by APC faithful who besieged the airport, then next was Senator Magnus Ngei Abe.
Both Rivers APC leaders then walked down to where the chopper was waiting for Prof. Yemi Osinbajo.
As the Acting President alighted from the Presidential Jet, he was received on hand by Gov. Nyesom Wike of Rivers State and a handful of traditional rulers and others who queued for a formal handshake with the visitor.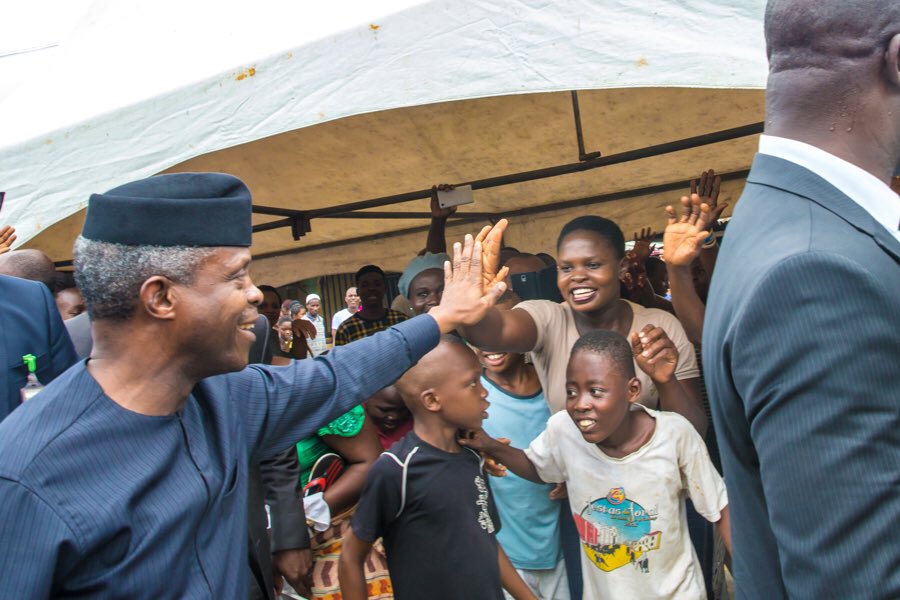 Osinbajo waves at Children in Portharcourt
The climax was when Wike pointed at the already waiting BMW to chauffeur drive Osinbajo who insisted rather that they walked to the already waiting Chopper where Amaechi, Abe and others were already seated.
Disappointed, the governor had to leave his aides, supporters and convoy behind and joined Osinbajo to the Chopper where APC faithful were already singing the praise of Amaechi.
As soon as the Acting President climbed into the Chopper and Wike made his way to join him, the youths began to boo him with shouts of, "Come down!, Come down!" while some others continued with shouts of "the Lion!" until the Chopper left.
Source Whirlwindnews.com
Posted on July, 27 2017
---
You may also like...

Again, court bars NERC from increasing electricity tariff...

More Nigerians go jobless as unemployment rate gets...

Justice Ademola, wife struggle with cameras in court...

Evans' N300 million suit against Police: Court set...

Bayelsa hosts the world *Opens historic 10,000 capacity...

Buhari only wanted to be president, but not...

Babafemi: Nigerian jihadist bags 22 years in US...

Suspected 'Killer' Badoo boys set ablaze in Ikorodu...