Evans: Blame my father for my kidnapping career *It's not true, his wife influenced him -Father
By Editor on 14/06/2017
Views: 1,450
Notorious kidnapper, Chukwudi Onuamadike, popularly known as Evans, has revealed that the decision of his father to disown him was the reason he took to crime.
However this is contrary to claims by the suspect's father, Stephen Onwuamadike who alleged that his estranged wife manipulated Evans into taking up crime.
The kidnap kingpin, was arrested on Saturday, June 10, for coordinating several high-profile kidnappings, armed robbery and murder within Lagos, Edo, Abia, Enugu and Anambra states.
Evans, speaking with Vanguard, said that he was forced to drop out of school while in Junior Secondary School Class 2, when his "father drove his mother, Chinwe, away and got married to another woman."
The kidnap kingpin maintained that his father, a businessman asked him to join another business man, a spare parts dealer, in Nnewi, who he served for five years without settlement because the man accused him of stealing later.
The suspect who hails from Akamili, Umudim Quarters in Nnewi, Anambra state said his father was embarrassed by the allegation "so much that he drove him out of his house."
He also said that his father's action affected him so much that he was forced to move into his mother's house, who later raised money for him, with which he used in travelling to Lagos.
On arriving Lagos, he started selling diesel to luxury buses and truck drivers at Alafia Bus-stop along Lagos-Badagry Expressway. He explained that, while he was selling diesel, he slept in a bus garage and it was there he joined a robbery gang.
Evans, who was arrested by security operatives on Saturday, June 10, has begged for forgiveness. The kidnap kingpin burst into tears during his interrogation asking for forgiveness and promising to be a born-again Christian if given the opportunity.
He said: "My friend, known as Hunch Man, introduced me into kidnapping and after a few operations during Peter Obi's administration, we were forced to leave the state and we moved to Edo state. I had some boys from Warri, Delta state, working with me."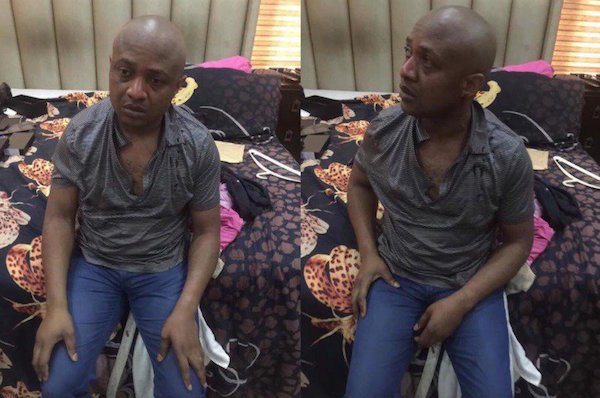 Evans
Source Vanguard
Posted on June, 14 2017
---
You may also like...

Buhari: Corruption drove me out of power 35years...

BIZARRE: The tragic end of UI law student,...

Bauchi Youths mobilize, send Herdsmen out of school...

Buhari touches down Washington ahead Trump meeting

BREAKING: Tambuwal, Sokoto Governor, dumps APC, returns to...

Trouble for Sanusi: Anti-graft agency descends on Kano...

Gambia sells off Jammeh's luxury cars, planes amid...

Kalu's APC move changes Nothing – The Sun...