Anxiety heightens after Benue council poll as electoral boss declares APC winner without result
By Editor on 05/06/2017
Views: 426
Benue Gov. Orthom
The Benue State Independent Electoral Commission (BSIEC) announced on Sunday that the All Progressive Congress (APC) had won all the 23 local government chairmanship seats in the election held on Saturday.
It also announced that the party won all the councillorship positions, with some of the candidates returned unopposed.
BSIEC chairman, John Tsuwa who declared the results in Makurdi, the state capital, however, declined to release details of votes scored by the candidates.
"The figures are not ready. I will not entertain questions because this is not a press conference,," he told curious reporters.
Tsuwa said that eight political parties participated in the exercise and listed them to include Accord Party, APC, PDP, SDP, ACB, PPP, LP and NNPP.
He thanked security agencies for ensuring a smooth conduct of the elections, and expressed happiness that no case of violence or snatching of ballot box was reported throughout the exercise.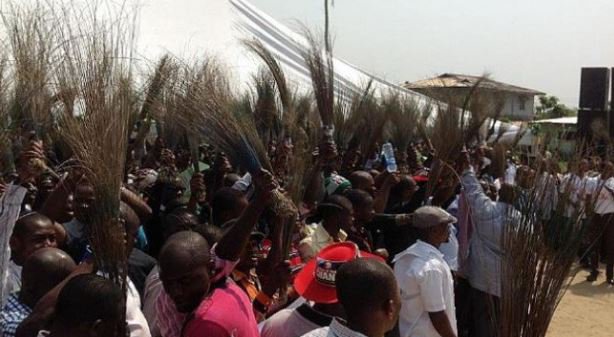 Posted on June, 5 2017
---
You may also like...

Fayose: Only Ndigbo can survive a divided Nigeria...

Pomp, as Ezinne Cecelia Okorafor, mother of CBN...

Commonwealth Games: 400m winner leaves Nigerian camp, reportedly...

Camp Nou throws gate wide open as political...

BREAKING: Nadal wins ATP title

Six months grace for corrupt officials! *As Buhari...

Police seal off streets over, over bomb-scare at...

BREAKING: 'Few' party members reportedly break out, form...