BREAKING: Akeredolu emerges as Ondo Governor *Only 11 card Readers malfunctioned, INEC claims
By Editor on 27/11/2016
Views: 917
Oke, Akeredolu and Jegede
Jubilation erupted in Akure, Ondo state capital after the Independent National Electoral Commission (INEC), declared All Progressives Congress (APC) candidate, Rotimi Akeredolu, winner of the 2016 Ondo state governorship election.
He polled 244, 842 beating his closest rival, Eyitayo Jegede of the People's Democratic Party, (PDP), who polled 150, 380, while Olusola Oke of the Alliance for Democracy, (AD) follows with a distant third of 126, 889 votes.
Returning officer, Professor Ganiu Amali made the announcement at about 12:50 pm on Sunday.
With this victory, the governor-elect of Ondo state and candidate of the All Progressives Congress (APC), Mr Akeredolu, now takes on the responsibility of bringing everyone on board, to continue from where the PDP governor, Dr, Olusegun Mimiko stopped.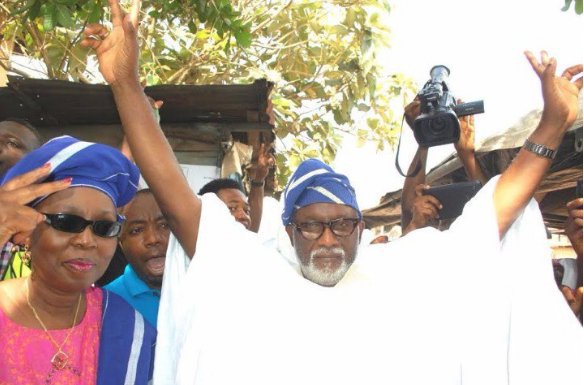 In the meantime, the governor-elect says his victory is a clear demonstration of the will of the people of Ondo state.
He believes that "the people have spoken and have indeed spoken well", as he would go straight into work, to bring about improvement in all aspects of the state's economy.
According to him, "there has been obvious neglect of people in the rural areas, and his government will focus more on grass-root development.
This is the second time he will be contesting as governor or Ondo state, having lost the first time to governor Olusegun Mimiko of the People's Democratic Party (PDP).
The election which many had feared would be characterized by violence, given the tension that preceded the exercise, was however adjudged peaceful.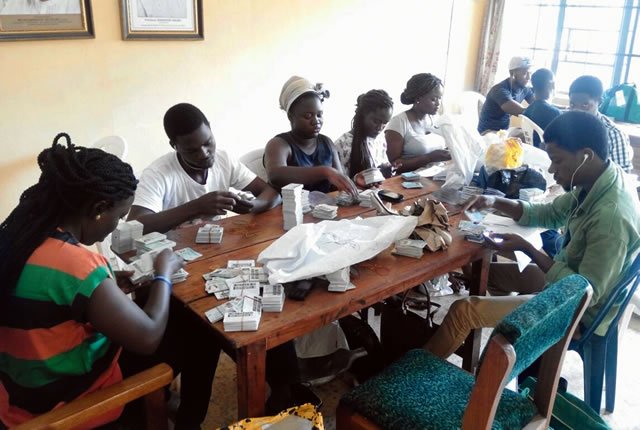 Although violence erupted a day before the polls took off, leading to the unfortunate killing of one person, the Federal Government ensured the deployment of 26,000 policemen and 15,000 personnel from the Nigeria Security and Civil Defence Corps, to avoid a further breakdown of law and order.
The Independent National Electoral Commission, (INEC), had dropped Mr Eyitayo Jegede and published the name of Mr Jimoh Ibrahim as the PDP candidate, forcing Jegede to head to the court of appeal to retrieve his ticket.
However, few days to the election, the court of appeal announced Jegede as the rightful candidate of the party, after a go- ahead by the supreme court.
Mr Jegede, then called for the postponement of the election to enable him campaign for the election, but the electoral body said it would not shift the election, as it had printed and initiated processes for the election.
Meanwhile, INEC has declared that only 11 card readers malfunction during the state governorship election on Saturday
Released results
APC 4, 253, PDP 7,313 in Ondo East local government PDP
APC 10,681, PDP 8,306 in Ile Oluji Okeigbo local government APC
APC 13,464 PDP 6,493 in Akoko North east local government APC
APC 10,958 PDP 6,742 in Ifedore local government APC
APC 11,138 , AD 6,710, PDP 5,907 in Irele local government APC
APC 13,454, PDP 6,520 Ose local government APC
APC 10,673, PDP 17,382 in Ondo West PDP
APC 6,384, PDP 4,239 in Akoko south east APC
APC 19,892, PDP 7,691, AD 9,359 in Akoko South West APC
APC 13,048, PDP 6,049 in Akoko North West APC
APC 10,710 PDP 6119 Akure north APC
AD 16,294, APC 14,930 Okitipupa local AD
APC 32,988, PDP 4,241 Owo local government APC
APC 10,981, PDP 7,975 Idanre Local APC
APC 17,581, PDP 8,668 Odigbo Local government APC
APC 25,797, PDP 25,005 Akure South Local government APC
APC 10,700, PDP 8,701 Ese Odo local government APC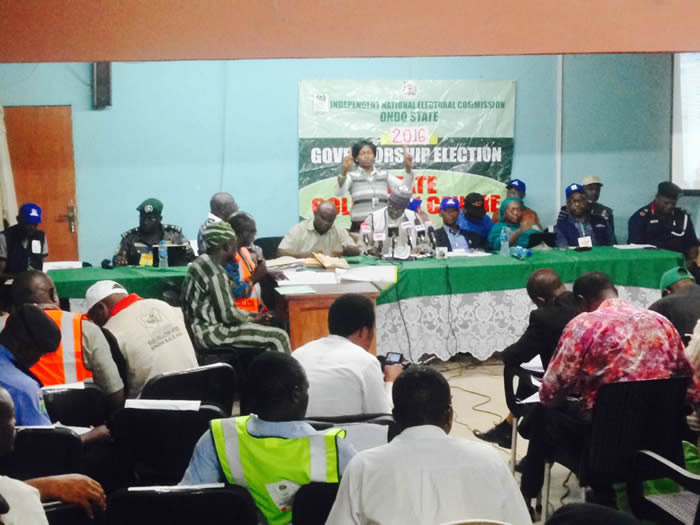 Source Agency Report
Posted on November, 27 2016
---
You may also like...

Terrorism: Okah declares readiness to face trial

Police barricade venue of PDP meeting in Abuja,...

Senate Rules: My hands are clean

Countdown: News Express 5th Anniversary Lecture holds today...

Apprehension as Gunmen abduct Director, demand N40million ransom...

Follow Up: Police Corporal, three Others arrested over...

Turkey wedding carnage* Death toll rises to 50...

Guber Poll: Maku cries foul, calls for cancellation...