China was a hit – Buhari *Says Nigeria to build on gains
By Editor on 15/04/2016
Views: 898
Buhari
President Muhammadu Buhari, is leaving China contented, happy, and hopeful, saying the outing was a hit and a big boost for his government and Nigerians.
Reviewing the outcome of the four-day working visit, the President enthused about how it had yielded an additional investments in Nigeria exceeding $6 billion USD.
A statement by Presidential spokesman, Garuba Shehu said on Friday that the "President Buhari believes that the several agreements concluded with the Chinese during the visit will have a huge and positive impact on key sectors of the Nigerian economy including power, solid minerals, agriculture, housing and rail transportation.
"In the power sector, North South Power Company Limited and Sinohydro Corporation Limited signed an agreement valued at $478,657,941.28 for the construction of 300 Mega Watts solar power in Shiriro, Niger State.
"In the solid minerals sector, Granite and Marble Nigeria Limited and Shanghai Shibang signed an agreement valued at $55 million for the construction and equipping of granite mining plant in Nigeria.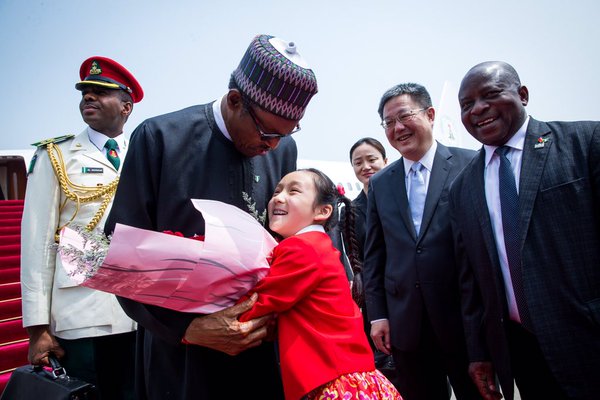 Buhari
"A total of $1 billion USD is to be invested in the development of a greenfield expressway for Abuja-Ibadan-Lagos under an agreement reached by the Infrastructure Bank and Sinohydro Corporation Limited.
"For the housing sector, both companies also sealed a $250 million deal to develop an ultra modern 27-storey high rise complex and a $2.5 billion agreement for the development of the Lagos Metro Rail Transit Red Line project.
"Other agreements announced and signed during the visit include a $1 billion for the establishment of a Hi-tech industrial park in Ogun-Guangdong Free Trade Zone in Igbesa, Ogun State.
"Furthermore, the Ogun-Guangdong Free Trade Zone and CNG (Nigeria) Investment Limited also signed an agreement valued at $200million for the construction of two 500MT/day float gas facilities.
"An agreement valued at $363 million for the establishment of a comprehensive farm and downstream industrial park in Kogi state was also announced at the Nigeria-China business forum.
"Other agreements undergoing negotiations include a $500 million project for the provision of television broadcast equipment and a $25 million facility for production of pre-paid smart meters between Mojec International Limited and Microstar Company Limited.
"About 100 Nigerian businesses and 300 Chinese firms participated in the Nigeria-China business forum which took place a day after President Buhari began his visit to China."
Source Whirlwindnews.com
Posted on April, 15 2016
---
You may also like...

Drama as APC rejects defected PDP lawmaker *PDP...

BREAKING: Buhari hosts Victorious D' Tigresses, gives N1m,...

I'm alive, Jonathan's former CSO screams

INSENSITIVE OSINBAJO? Like Buhari, Acting President snubs Ndigbo...

Obasanjo goes late to council of state meeting......

Herdsmen killings: Buhari speaks at last *Culprits won't...

I remain PDP National Chairman - Sheriff *Says...

Deadline Day: Hart, Bony, Nasir escape from City,...