Shiite war: World rises in condemnation *Amnesty International, Britain speak
By Editor on 16/12/2015
Views: 748
Battle-ready soldiers during the confrontation
The voice of the world has started rising over last weekend's killing of some Shiite Islamic adherents in Kaduna, with Amnesty International (AI) and Britain condemning the incident, on the heels of strong words from Iran, the seat of the sect.
AI, which has been quite critical of the Nigerian military, for alleged extra-judicial killings, seemed to have found another opportunity to up the ante, with a statement coming from its Director in Nigeria, M.K. Ibrahim, calling for an urgent investigation into the Kaduna saga.
Britain, also spoke on the same issue calling for restraint and the employment of proper rules of engagement from the Nigerian security forces Nigeria and for Nigeria to observe the tenets of freedom of worship.
Surprisingly, none of such commentaries was heard in a similar incident a fortnight ago, when protesters on the aegis of the Indigenous People of Biafra (IPOB), were mowed down through the bullets of Nigerian security operatives.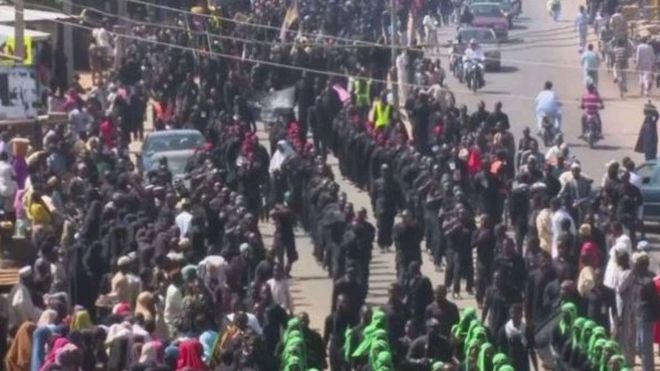 Shiites members protesting on Tuesday

Regardless, the international human rights body, sued for the full weight of the law to be brought against anybody found culpable "for unlawful killings."
"Whilst the final death toll is unclear, there is no doubt that there has been a substantial loss of life at the hands of the military," said M.K. Ibrahim, Director of Amnesty International, Nigeria.
"Firearms should only be used as a last resort, if strictly unavoidable in order to protect life. It is crucial that the authorities refrain from using excessive force and ensure that anyone responsible for unlawful killings is brought to justice in fair trials."
"As well as the loss of life, security forces arrested many members of Islamic Movement of Nigeria (IMN), including the leader of the group, Ibraheem Zakzaky, who was picked up at his residence on Sunday morning and remains in detention. It is unclear if he has access to a lawyer. Reports suggest that the dead and injured were taken to the military hospital and to the university teaching hospital.
"Nigerian security forces have a history of carrying out unlawful killings and other human rights violations. In the course of security operations against Boko Haram, Nigerian military forces have committed serious human rights violations, war crimes and crimes against humanity in north east Nigeria.
"An impartial investigation is urgently needed into these killings. Anyone responsible for unlawful killings should be brought to justice. Those in detention must be granted access to medical care as a matter of urgency and either charged with a recognizable criminal offence or released," said M.K. Ibrahim.
On its part, British High Commissioner, Paul Arkwright stated: "Like many across Nigeria, I am following with concern the reports of violence in Zaria over the weekend between the Nigerian security forces and the Islamic Movement of Nigeria. I am further concerned at reports that protests in Kaduna have turned violent. Nigeria's religious and ethnic diversity adds a great deal to this country's rich culture. It is important, therefore, that Nigerians of all faiths are allowed to assemble and worship freely. In addition, I call on the security forces to conduct their operations within the rule of law, and for demonstrators to ensure any protests are peaceful and equally act within the law."
Source Whirlwindnews.com
Posted on December, 16 2015
---
You may also like...

BREAKING: Taiwan plane crashes into river, Nine killed...

Emir Sanusi: Buhari can win corruption war in...

Wike to Court of Appeal: Restore my mandate...

Saraki to Nigerians: Don't give up on us,...

Why we seek N9.12 trillion loan - Buhari...

BIZAARE! Witches are after me – Oliseh *Eagles...

In London, Ifeanyi Ubah brokers deal with West...

Court rejects bail application for randy Principal who...