Varsity withdraws funding of Minneapolis Police Department over George Floyd's death
By Editor on 28/05/2020
Views: 364
George Floyd and the alleged killer officer
Funders such as the University of Minnesota say have cut ties with the Minneapolis Police Department as widespread violent riots, looting, burning of shops and police station continue in Minneapolis, Minnesota in the wake of the death of George Floyd earlier this week.
The university says they will be making immediate changes to their relationship with the Minneapolis Police Department which was responsible for the death of the 46-year-old George Floyd. Cancelling contracts with the Police Department will see the Police Department defunded.
In the offical letter, the University president, Dr. Joan Gabel announced the cancellation of the multimillion dollar security contract for concerts, events and lectures.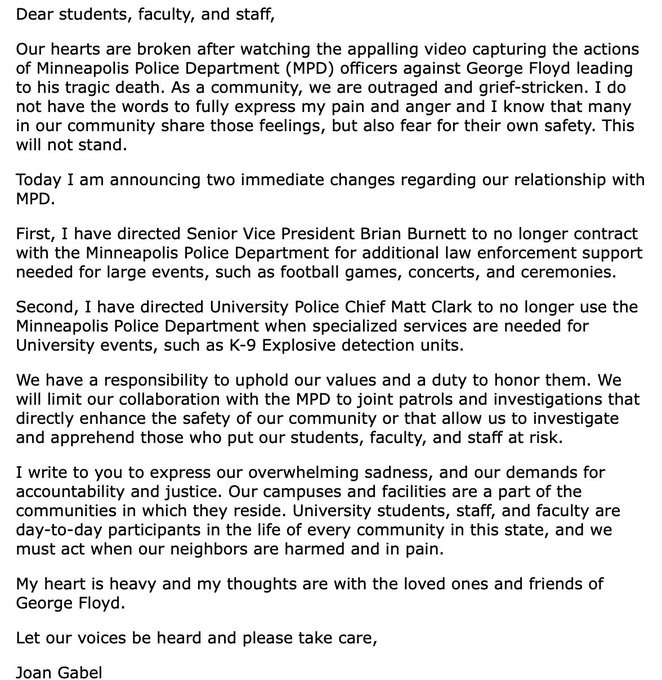 Source iHarare.com
Posted on May, 28 2020
---
You may also like...

Rivers Community under siege as Gunmen slay many...

You're wasting your time, Davido will never marry...

Watford breaks record, signs Nigeria's Success

Dignitaries besiege Ekiti, as Fayose gives out daughter...

A'Ibom monarch's wife freed after delivery in kidnappers'...

Acting nude: Why not? But I have to...

After failed abortion, commissioner sleeping with mother and...

Charlie Boy blasts TuFace: You be suegbe *Encourage...