BREAKING: World Nations set to storm Abuja as Nigeria Taekwondo Open gets int'l status
By Editor on 17/09/2018
Views: 425
Less than 24 hours after 2018 National Youth Games (NYG) ended at the University of Ilorin, Kwara state, the Nigeria Taekwondo Federation (NTF) has announced readiness to stage the second edition of Nigeria Open which has transformed to an international competition.
To this end, countries in parts of the world and Africa continent would be heading to the Nation's capital, Abuja soon.
Making this known to whilrlwindnews.com on Monday, Technical Director of NTF, Engr. Chika Chukwumerije affirmed that the this year's version of the event has been sanctioned by World Taekwondo (WT) governing body as a G-1 international ranked programme scheduled between November 16 and 18, 2018 inside Abuja National stadium.
The latest development signals a first-ever international taekwondo outing to be hosted in Nigeria, a feat by the current NTF leadership.
"The federation worked very hard to get the approval World Taekwondo through the African body who duly approved after being satisfied that the event fulfils all World Taekwondo conditions.
"Despite being top competitors on the continent, our athletes have literally no world ranking because they cannot afford to travel and compete. By getting the event sanctioned, we would provide hundreds of our elite and upcoming athletes the opportunity to gain vital world ranking points and competitive experience with some of the best athletes in the world, an elated Chukwumerije, Olympic medallist submitted.
NTF President, Margret Binga assured of the federation's readiness to ensure that the event conform to with international best standards with a view to promote the country's rich cultural and tourism heritage adding, "We expect more than 15 countries to participate. This will be a great opportunity to make a positive impression about Nigeria taekwondo and the country. We will work hard to organise an event that will put as in a good position to bid to host the Olympic qualifiers or other big events.
"This will be beneficial to the development of the sport in Nigeria."
For Technical chairman of NTF, Alhaji Sani Lawal, "Countries like Cote DÍvoire have more than seven competitors in the high ranked grand slams series because their athletes have a lot of ranking from organising G-ranked tournaments since 2012.
"We can see the impact of these tournaments considering the fact that they won an Olympic gold and bronze in in Rio Olympics and world titles in 2017. And so, getting the Nigeria Open to be sanctioned by Word Taekwondo is a way forward for Nigerian taekwondo athletes."
Daedo Gen two electronic body scoring system, Dartfish Video replay system and the Taekoplan Overall Management System (latest technological facilities) will be used during the taekwondo open event.
The much talked about Open competition would be preceeded by annual Korean Ambassadors Cup. There will also be an award night shortly after the Nigeria Open organised by NTF to honour outstanding Stakeholders who distinguished themselves in the past year.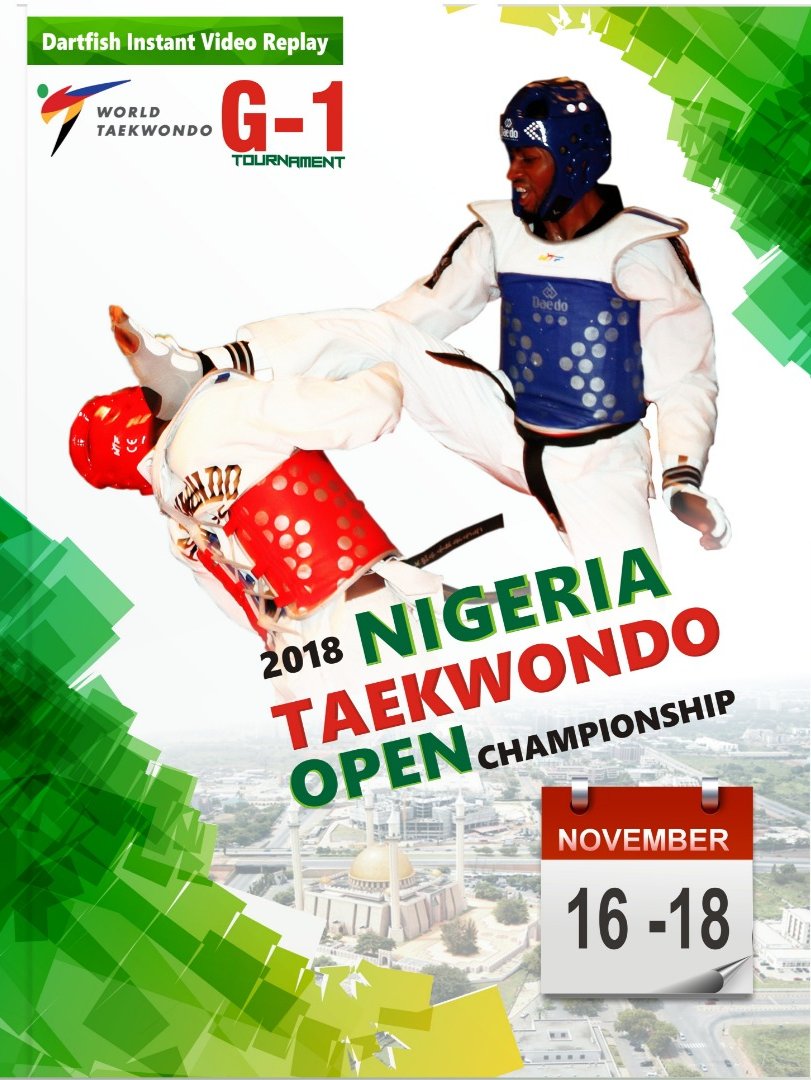 Source Whirlwindnews
Posted on September, 17 2018
---
You may also like...

BREAKING: Obasanjo, Secondus, Bode George, other in closed...

BREAKING: 15 inmates escape from Nsukka prison in...

BREAKING: Shock as 'hired killers' gun down party...

BREAKING: Djokovic inflicts defeat on Murray, grabs first...

Again, Queens College resumption put off *As Lagos...

Jubrin Heads to EFCC *Too bad backing evil...

Power supply still shaky as Fashola denies agreeing...

Nigeria needs wealth creators in government, not wealth...