Fayose writes EFCC: My immunity expires October 15, I'll be with you less than 24hrs after
By Editor on 12/09/2018
Views: 326
Fayose
True to his promise of making himself available at the Economic and Financial Crimes Commission (EFCC) office not more than 24 hours after the end of his tenure as governor, the Ekiti State Governor, Ayodele Fayose has written to the commission, saying he will make himself available to the on Tuesday, October 16, 2018 at 1pm "to clarify issues or answer questions on issues within his knowledge."
The letter dated September 10, 2018, was titled: "Notification of my decision to make myself available in your office to clarify issue(s) or answer questions on issues within my knowledge."
The governor's position, which was conveyed in a statement by his spokesman, Lere Olayinka, Wednesday, is said to have since been received at the EFCC office in Abuja on Tuesday.
The governor however said that the EFCC was at liberty to pick another convenient date in case October 16 was not suitable.
The letter read: "Several and serial actions of your commission for some time now, including but not limited to freezing of my accounts and attempts to secure temporary forfeiture of my properties, are indicative of the Commission's desire to have me clarify some issues or answer some questions but for the immunity that I enjoy under Section 308 of the 1999 Constitution as sitting governor of Ekiti State.
"I wish to inform you that my term of office pursuant to which I enjoy immunity against investigation and prosecution under the above provision shall lapse by effusion of time on Monday, October 15, 2018.
"As a responsible citizen of our great country, who believes in the rule of law, I wish to inform you of my decision to make myself available on your office on Tuesday, 16th October 2018 at 1pm to clarify issues or answer questions on issues within his knowledge.
"Kindly confirm the suitability of the above date or indicate by return, the Commission's convenient date."
It should be recalled that Governor Fayose has said in 2016 that "The EFCC and its collaborators should keep their gun powder dry and wait till the end of my tenure."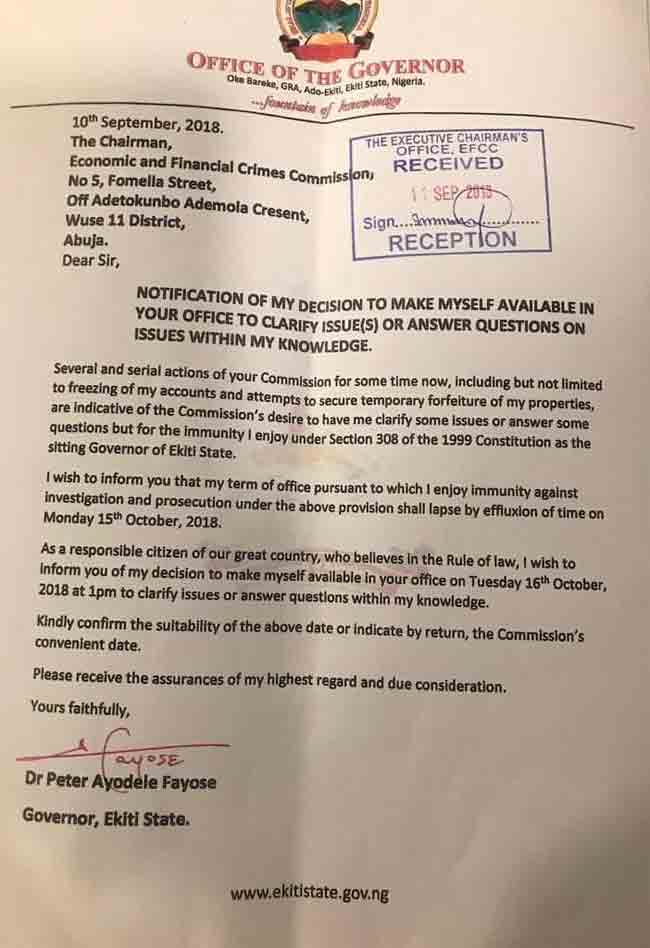 Source Whirlwindnews.com
Posted on September, 12 2018
---
You may also like...

Messi makes history again, scores 500th league goal...

INCREDIBLE: You're unlucky, doctors tell woman who lost...

New hurdles as Eagles face difficult World Cup...

Police never arrested me, boastful Omo-Agege claims

Etisalat collapses in Nigeria despite intervention,

Kidnapped school girls: We'll get the culprits -...

BREAKING: Newly elected French President, Macron names Philippe...

Suspected rubber falls from roof, throws GTB premises...