Trump, Obama pour tributes as former US Presidential hopeful dies at 81
By Editor on 26/08/2018
Views: 402
Trump
Tributes from former US presidents and across the political spectrum have poured in for Republican Senator John McCain, who has died aged 81.
Barack Obama, who beat him to the White House in 2008, said they had shared a "fidelity to something higher".
George W Bush described him as "a patriot of the highest order".
President Donald Trump, whom McCain had strongly criticised, tweeted his "deepest sympathies" to McCain's family but did not comment on his life.
By contrast, First Lady Melania Trump thanked the late senator for his "service to the nation".
McCain was diagnosed with an aggressive brain tumour in July last year and had been undergoing treatment.
But on Friday his family announced he had decided to discontinue that treatment.
A statement from his office on Saturday said McCain had died in Arizona surrounded by family members.
"He was a public servant in the finest traditions of our country," Mr Bush said. "And to me, he was a friend whom I'll deeply miss."
Mr Obama said that despite being his Democratic rival, they had shared the ideals "for which generations of Americans and immigrants alike have fought, marched and sacrificed".
Sarah Palin, who was McCain's running mate during his 2008 presidential bid, said the world had lost "an American original".
From outside the US, Israeli Prime Minister Benjamin Netanyahu hailed McCain as "a great American patriot" whose "support for Israel never wavered."
Canadian Prime Minister Justin Trudeau said McCain's lifetime of public service had been an "inspiration to millions".
However, he also gained a reputation as a Republican maverick who was willing to cross party lines on a range of issues.
In July last year, just after his diagnosis, he took part in a late-night Senate session and gave the deciding vote - with a thumbs-down gesture - against partially repealing the contentious Obamacare healthcare law. The move reportedly infuriated Mr Trump.
McCain also criticised President Trump's hard-line rhetoric on illegal immigration and his attacks on the media.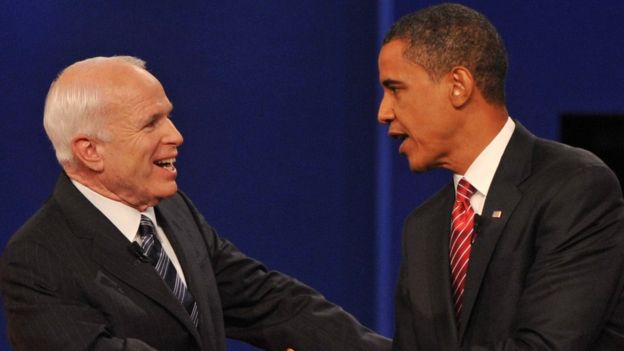 Obama and McCain
Source BBC
Posted on August, 26 2018
---
You may also like...

BREAKING: Court orders release of Ifeanyi Ubah

President Buhari reportedly experiencing Speech impairment in London...

Anambra Central: All that is left for Umeh...

Customers confer Dangote as most admired African brand...

Yahaya Bello: I'm the landlord of APC in...

Atiku blames Buhari for airport ordeal *It's not...

BREAKING: Rohr unleashes Moses, Iwobi on Poland, wary...

Delta Govt lauds US-based Ubulu-Uku association for rehabilitating...