ANC Leaders in final push for Zuma's ouster ahead 2019 polls
By Editor on 12/02/2018
Views: 311
Zuma
Leaders of South Africa's governing ANC party are meeting to decide the future of President Jacob Zuma.
The National Executive Committee (NEC) is likely to ask him to step down, report from BBC indicates.
ANC president Cyril Ramaphosa acknowledged on Sunday that the issue was causing "disunity and discord".
Mr Zuma, 75, faces a number of corruption charges after nine years in power.
There are 112 members of the NEC, and many may want to share their views during the meeting in Pretoria - meaning it they may not finish until late on Monday.
"We know you want closure," Mr Ramaphosa said on Sunday, addressing supporters who had gathered to mark 100 years since the birth of the country's first black president, Nelson Mandela.
He told the crowd in Cape Town that "our people want this matter to be finalised" and that the African National Congress (ANC) would comply.
He acknowledged the ANC was going through "a period of difficulty, disunity and discord", and said he was seeking "a new beginning".
He pledged to tackle the corruption that has marred Mr Zuma's time in office.
Mr Ramaphosa urged South Africans to restore the values that Mr Mandela - also known as Madiba - stood for, and said those who had stolen state assets would be brought to justice.
"We must work together as Madiba taught us to push back the frontiers of poverty, unemployment and inequality," he said.
An NEC meeting was called off last week following direct talks between Mr Zuma and Mr Ramaphosa, who is the deputy president as well as the new leader of the party.
Mr Zuma has resisted increasing pressure to quit since December, when Mr Ramaphosa replaced him as leader of the ANC.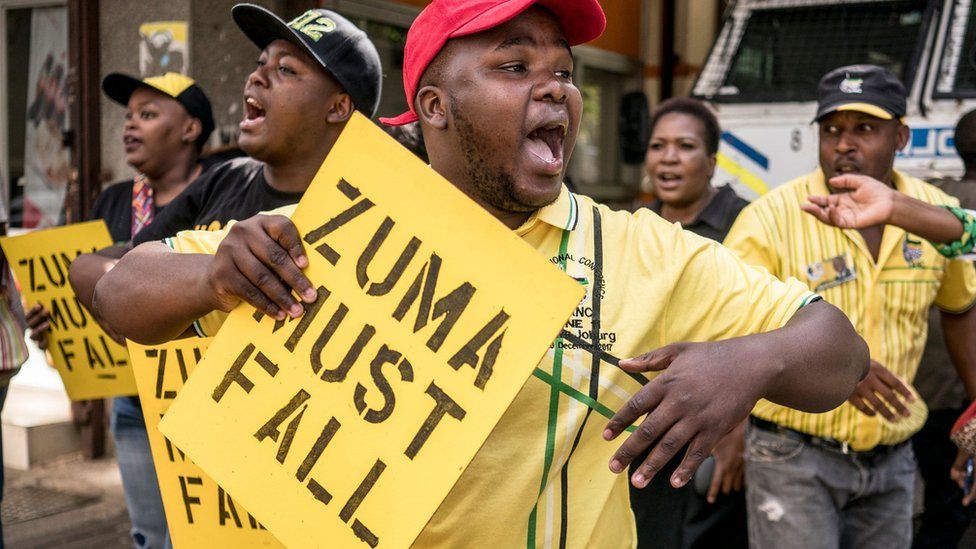 Source BBC
Posted on February, 12 2018
---
You may also like...

Plateau Commissioner dies while jogging with Gov Lalong...

Fani-Kayode counters Osinbajo, claims Buhari not returning to...

Out-of-School Children, time bomb waiting to happen -Saraki...

BREAKING: Efe wins on victory song *Wins #BBNaija...

BREAKING: Explosion rocks Mubi, many Worshipers feared dead...

EFCC pounces on Ohakim

Tanzania clash: Oliseh reverses himself, invites lower league...

BREAKING: Trump mourns as Warmbier, American student detained...