Herdsmen invasion: Benue People still living in fear, torment, Orthom cries out
By Editor on 19/01/2018
Views: 213
Orthom
Governor Samuel Ortom of Benue, on Friday, said that people of the state live in fear and still under siege of Fulani herdsmen.
Ortom stated this while receiving northern and All Progressive Congress governors led by the chairman, governors forum, Shetima Kashim, at the new banquet hall, Makurdi.
In attendance were five governors; Shetima Kashim, (Borno), Simon Lalong, (Plateau), Mallam El Rufai, (Kaduna), Yahaya Bello, (Kogi) and Mohamad Abubakar, (Jigawa) as well as deputy governor of Osun state, Chief Mrs Grace Titilayo Tomori.
Ortom said that the fear of the people stemmed from continuous threat by the herdsmen who despite the killings still issued threat on daily basis to take over Benue land.
According to him, 'we thank God that peace is gradually returning to the state but there are still pockets of challenges here, we know the challenges will soon be over because our people are always alert to give useful information to security operatives around".
"Let me tell you that our people are still living in fear and under siege, living in fear because of the series of threat by Kautal Hore which started the threat since seven months ago, they are not mere threat.
"We have evidence against them, what we are saying is that federal government should arrest the leadership of Kautal Hore".
Governor Ortom who appreciated the visit said that the state is committed to one Nigeria and assured president Buhari of the state' s committed to his administration.
The governor, however, expressed confidence that Nigeria will soon take its rightful position as the giant of Africa if leaders are sincere and stand by the truth.
"This country is blessed with great potentials to be great in the world and that is if we leaders should stop pretending but stand by the truth."
though the state was getting over the senseless killings in the new year further said that 'there are still pockets of challenges".
He said that the crisis had made the people of the state to always be on alert and give useful information to security operatives.
Speaking earlier, governor Shetima Kashim who said that they had come to commensurate with the people of the state, however, expressed disgust that people were trying to make politics out of the crisis.
Kashim who apparently reacting to the advice of the pan socio-cultural group from the south and middle belt forum that visited the state on Wednesday said, ' none of those people can say they know problem of this state than the governor.'
Kashim, who never condemned the activities of the herdsmen throughout his speech and during interaction with newsmen, said problems are created by men and men can find the solution to the problems.
According to him, 'sensationalism can not advance the cause of the issue, we should have generosity of spirit to embrace each other'.
Whike saying, unlike the old generations of Chief Adebanjo that do not have anything to give to Nigeria again, Kasim said, 'we are the new generation of Nigeria leaders not for some political dinosaur from Abuja or any part of the country to cause unnecessary issues.'
"All of us here are members of this generation, the future belongs to us not the likes of Adebanjo who was born 14 years after the amalgamation of Nigeria, Adebanjo will be 90 by April, he is living in the past, he is a political dinosaur", he said.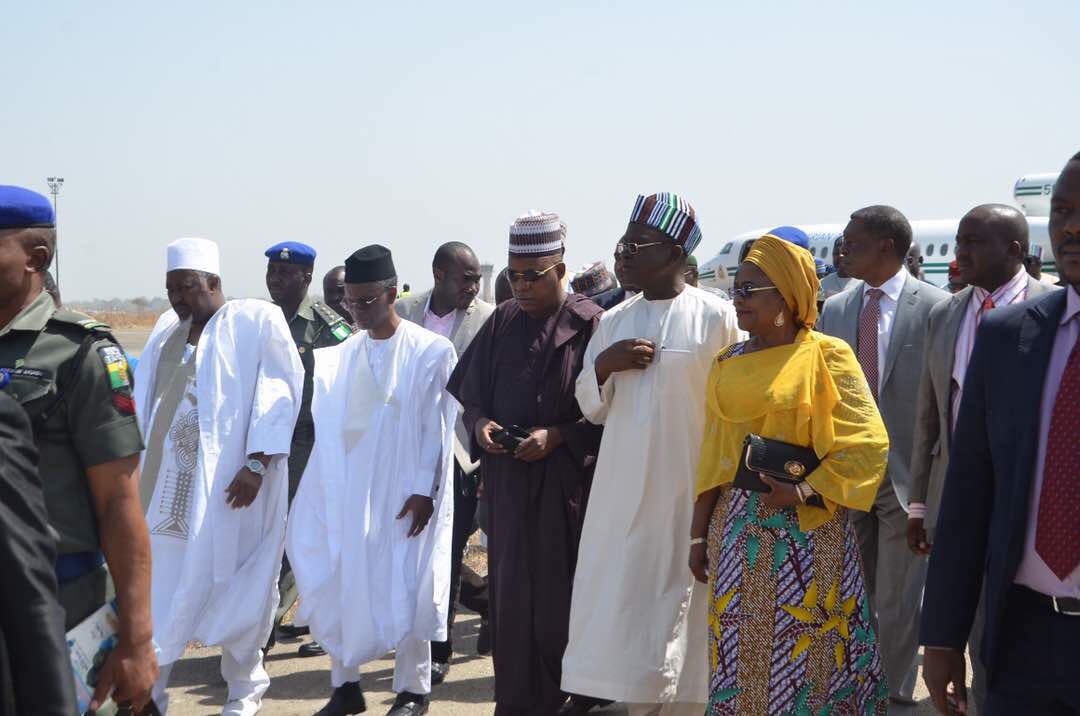 Orthom with visiting Governors
Posted on January, 19 2018
---
You may also like...

Ban on okada will create more problems, Amaechi...

Fayose to Sagay *You've sold your integrity to...

Forbes: Dangote is among World most influential Persons...

BREAKING: Not in Rivers! - Wike *Blocks DSS...

Nigerian rights community indicts Okorocha on Imo demolition...

Ohanaeze cries out: FG desperate to declare IPOB...

Nigerian problems won't cross over to 2017 –...

Black Stars, Elephants clash in AFCON final