LG Poll: Delta shut down highway, River Niger bridge *Stranded Travelers groan *Election turns violent, DSIEC office burnt down
By Editor on 06/01/2018
Views: 277
Delta state Governor, Okowa
Numerous holidaymakers are stranded in Onitsha, Anambra state, as the River Niger bridge is currently closed to all road users.
According to the travellers, police officers, members of the Federal Road Safety Corps (FRSC) and authorities from the state government, announced to them that gate to the bridge would remain locked till 3pm because of the ongoing local government election in Delta state.
The travellers, going back to their various bases, mostly in the south-west, said they have been stuck in the resulting gridlock for over four hours with no respite in sight.
"We have been here since 6 am," one of the stranded commuters who identified himself as Emeka,
"The traffic is at standstill. The bridge is locked he said. I can't believe that they can lock a federal bridge because of the local government elections.""They didn't even announce that the bridge will be locked".
Emeka said the authorities present "even scammed" the travellers.
He explained that the entrance to the bridge from Onitsha was opened after the travellers protested but that the exit remain closed.
One commercial bus driver, Uche of the Imo state Transport Company, said "it is a tough time for the drivers".
"Nobody can believe it. They say the bridge will not be opened till the election is over. Now the traffic stretches to Upper Iweka", Uche said.
Another disappointed traveler, Chukwudi Akasike, expressed his frustration on Facebook: "What is wrong with Nigeria? Why are our politicians so ignorant about those things that are common and taken for granted in other climes/countries? Take a look at the ongoing local government election in Delta State; it is a national disgrace that all major roads leading to and from that state have been blocked and travelers are stranded. This is wickedness and crass irresponsibility on the part of whoever approved that major roads should be blocked because of a mere local government election. Are we living in the cave? As Nigerians, are were cavemen and cave women at a time when civilisation is modernising the entire world?
Akasike further stated that as he bares his my mind on Facebook, thousands of vehicles are held up on roads leading to Warri, Asaba, Ughelli and other major roads close to Delta State.
" As I write this, people cannot cross the Niger Bridge in Onitsha because security operatives have been ordered to block the roads. What a shame! Is this a country? Other African countries have since dropped such primitive and primordial method of doing things."
He sympathised to many travellers, who are currently stranded on roads linking Delta State.
But spokesman of the FRSC, Bisi Kazeem justified the closure.
"It is because of the local government elections in 25 local governments that the bridge was shut down," he told TheCable.
"But now (1 pm), I can authoritatively tell you that it is opened because of the cars on the bridge.
Meanwhile, the Delta State local government election has turned violent.
Reports have it that some suspected party thugs who got disenchanted with the way electoral materials were lopsidedly distributed to the strongholds of rival political party set the Delta State Independent Electoral Commission (DSIEC) office ablaze in the presence of security men.
There was a deluge of complaints of irregularities, especially by parties other than the ruling party in the state on the allegations that key ad hoc staff of DSIEC were recruited mainly from the ruling party.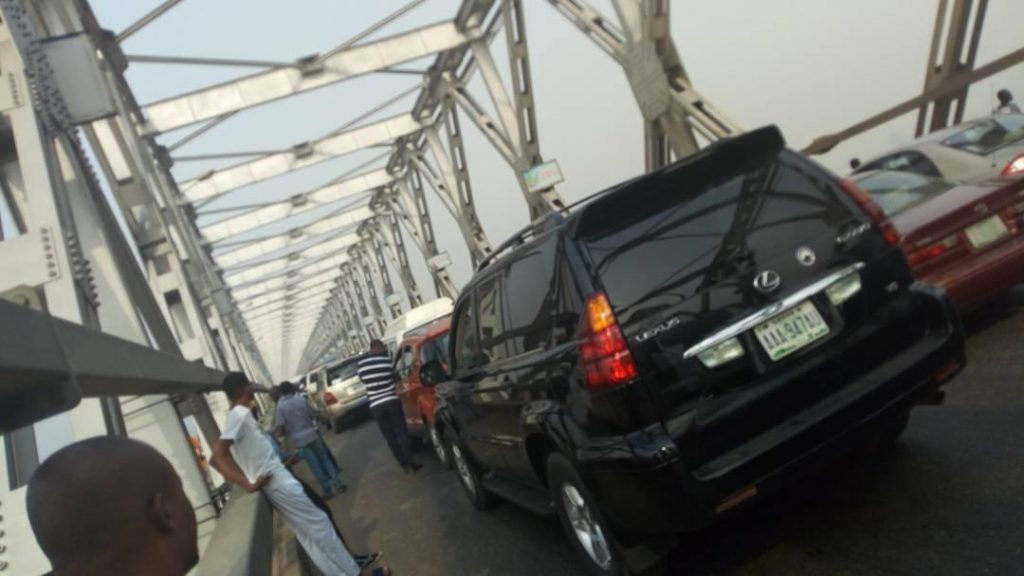 Source Cable
Posted on January, 6 2018
---
You may also like...

Super Falcons drop one place in FIFA Ranking...

Five persons including 6-month-old baby burnt to death...

Buhari milking NNPC ahead 2019 campaigns, Fani-Kayode alleges...

Under-fire Okorocha erects another African President's statue, set...

Catholic Church to Oba of Lagos: Why single...

Budget padding saga: FG moves to strip Dogara,...

Countdown to News Express parley: Adesina, Peterside, Eresia-Eke,...

BREAKING: Murray fires Wimbledon warning, clinches 4th Queens...