Samoa 2015: Reaping from grassroots
By Ikenna Okonkwo on 21/09/2015
Views: 3370
Mallam Yakmut
When the triumphant Nigerian young athletes were embarking on the just concluded Commonwealth Games in Samoa, not many would have predicted that they would probably return home glorious.
Their performance Whirlwindnews.com gathered not only produced colourful medals but equally dazzled other countries including India, England among others who had paraded quality athletes.
Commonwealth exploits
For about one week, few upcoming athletes who went to represent Nigeria in faraway Caribbean region stole show and hauled a total of 11 medals comprising of six gold, two silver and three bronze.
Unlike their senior counterparts who went to Beijing, took part in 2015 World athletics championships and returned home with no medal, the Young Nigerian athletes led by Deputy Director Grassroots of the National sports commission, NSC Alhaji Umaru Shua came back with their head high.
"The exploits of our upcoming at the games were not by magic or mere wish. They only responded to the level of training they have been subjected to overtime. As a result, some of them were in the world of their own.
"Who do you want to talk about and leave the other? Praise Idamadudu and Omotayo were in a class of their own on track. When other countries saw their exploits at the beginning, they were afraid whenever they heard about Nigeria in subsequent athletic event.
"Idamadudu particularly proved she is not just Nigerian and African champion, but an athlete we can rely on at the international stage in the future.
"This is good news for Nigeria. What remains is sustenance. There is need for continuous for them to be kept under close watch. I tell you in them, much more than the current Blessing Okagbare has been discovered.
"Because if someone like Omotayo can run 11.54secs in 100m in the competition, before two years' time, she will run 10.9 or something close," quiped athletic coach Seigha Pobeni who led about nine athletes to pick medals in 100, 200, 4x100 and 4x400m relay.
Nigeria's 200m female athlete, Praise Oghenefejiro Idamadudu, was the cynosure of all eyes after she won 200m gold medal in a time of 23.30 seconds. Idamadudu is the reigning Nigerian and African junior champion in the 200m event.
The female quartet that won 4x100m relay at the games
Idamadudu had won a bronze medal in the girls' 400m where she posted 53.20s, behind Jamaica's Junelle Bromfield (53.09s) and Jisna Matthew (53.14s) of India.
Apart from his performance in 400m, the new sensation, Idamadudu won three other gold medals in 200m 4x400m, and 4x100m while Omotayo and fellow compatriot equally coasted home with gold in 100 and 4x400 and 4x100m.
"By representing Nigeria at the Commonwealth Youth Games, I have been able to achieve one of my dreams, obvious happy, Idamadudu said.
Past woes, present gains
At the last edition of the Games held in China, Team Nigeria with a contingent of 12 athletes was forced to pull out due to discrimination and subsequent quarantine of the athletes owing to the Ebola virus outbreak in some parts of West Africa.
Silver medalist Etim Aniekeme Alphonsus and gold medalist Abolaji Omotayo Oluwaseu of Nigeria at the 2015 Commonwealth Youth Games
This time around, Team Nigeria went to the Pacific island nation of Samoa with a contingent of only 13 athletes in three events namely athletics, weightlifting and boxing.
In Samoa, Nigeria posted perhaps their best performance ever since the introduction of the cadet competition in 2009 by finishing in the seventh position out of over 60 nations that participated.
"We were supposed to return home with more medals if not for one of the gold medal prospect athlete who got injured before the day of his event," Pobeni who spoke to Whirlwindnews.com en route to Abuja added.
Exploring grassroots talents
Perhaps, the result being celebrated at the moment was the outcome of several grassroots development programme which the National Sports Commission, NSC embarked on recently.
Incumbent NSC Director General Mallam Al Hassan Yakmut who was then Director Grassroots piloted the country's first-ever National Youth Games when over 200 young athletes were discovered from various states of the federation.
Since then, Mallam Yakmut has never hidden his passion to see growing Nigerians with sporting potentials blossom.
He particularly re-echoed that upcoming Nigerian athletes will bridge the gap of medal haul for the country in the nearest future.
According to him, "I'm happy for the performance the young athletes put up at the competition. Winning gold at commonwealth games is still a developmental stage because if at that age you are running 11. 54secs, that means you will run 10.9secs later.
"So the future is very bright. We have set condition that will take Nigeria to greater heights with greater performance. A committee with the approval of Mr. President will soon be set up to design and review succession plan for athletes which will also include better welfare package.
"Our relationship with athletes won't just be to call on them anytime there is competition."
Describing the feat achieved so far as laudable, Dr Ademola Areh, presently Director Grassroots in NSC assured of their preparedness to sustain the current tempo.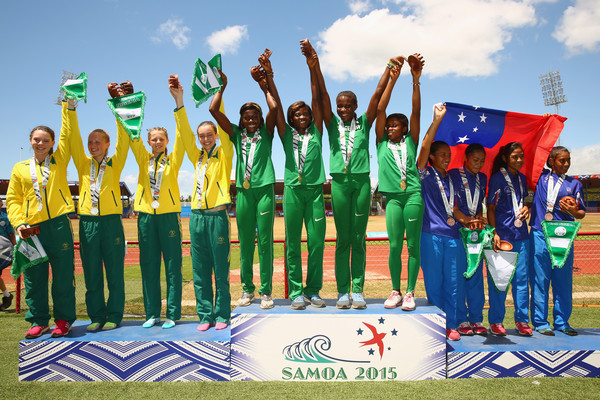 He added "With the huge population of youths in this country, Nigeria should not lack successor to the old legs that are tiring out. And with proper developmental programmes, I would not say the sky is the limit but we can be sure we can continue to have pool of young athletes who will do the country proud in the future."
On the measure being put in place by the commission to ensure proper sustenance, the visibly elated Areh said "It take continuous training and exposure because in sport you can only give out what you have put in. Long term plan and lot of commitment, a lot of funding, a lot of planning are needed.
"And we can do it. We have been doing it before, I believe we can still do it. It doesn't take much, It's just that commitment on the part of every body and I am sure we can definitely get there."
Source Whirlwindnews.com
Posted on September, 21 2015
---
You may also like...

I'll make millionaires and billionaires of Anambra farmers...

TRAGEDY: Three teenage girls drown in river

Benue: Ortom's government of vengeance, his "god" and...

'How my four-year-old daughter was abducted from school,...

Mansur Muhtar, Okoh, Olele to attend Realnews Seventh...

Budget of Recovery and Resilience! Full text of...

BREAKING: Tension, as military men take over Rawlings'...

Hope for Dele, little girl studying with ATM...