At LCC-TS, the final journey begins for Victor Ikwuemesi, Sosoliso founder
By Editor on 18/10/2020
Views: 580
Ikwuemesi (Ebube Ogidi)
"In my 20 years as a member of the Tennis Section of the Lagos Country Club, this is the second time I'll be witnessing an event like this." These were the exact words of Aare Hope Gbagi, the Ejiro Oghene of Orukugbe Kingdom in Delta State.
Date was Wednesday, October 14, 2020, venue, the amphitheatre of the LCC, and the event, Night of Tributes for Ichie Victor Ifeanyichukwu, Ikwuemesi, accountant, industrialist, business magnet, aviation guru, and founder of Sosoliso Airlines.
It was the first major event Gbagi, would be performing since taking charge of affairs at the prestigious tennis arena reputed as the best place to play the game in Nigeria, after his election on September 18, 2020 with his team as the chairman of the section.
"While we send our deepest condolences to the members of the immediate family, let me quickly add that the Tennis Section is mourning with you also. High Chief Victor Ikwuemesi (Ebube Ogidi) was very dear to the Section and contributed immensely to the infrastructural development we now have. We pray that the good Lord will grant his soul a peaceful rest in His bosom," he added at the event attended by a full compliment of family members, friends and well-wishers of the late sage.
In his high eulogy and testimonial about Ikwuemesi, the Gbagi travelled the memory lane in his attempt to bring home the complete imagery of the man, whom many see as a phenomenon and an enigma of a sort, who despite sitting amongst the exclusive consort of the high and mighty, yet, displayed exemplary humility, chose to to ensemble and mingle with the less endowed in such a beguilingly inter-personal manner.
But in that attempt, the new LCC-TS chairman, might as well be preaching to the converted. For virtually each person seated at the large hall, came with individual testimony, to confirm, adumbrate and add to the tall list of the attributes that conduced his man of the people figure. Thus the floodgate of testimonies that soaked up the evening evening. As each person spoke, it became obvious that an attempt to capture the persona of the man known to many as Ezelue, and to others Ebube Ogidi – for he was a highly reverred traditional title holder in his Ogidi, Idemili North of Anambra State – was as distant and almost impossible as the biblical chasing after the wind.
No word, no description and no graphic, seemed enough. Rather, the more each person tried, the more they seemed to add to the mystery, especially of understanding why a man would be so good as to be considered perfect. But there was one nobody seemed to miss out on – his immense humility and vast human relations capacity.
Charles Aghadino, current Vice Chairman of the section, spoke of how Ezelue, comforting daily calls became not a daily companion, while he lay on his hospital bed during his serious health challenges, but how his prayers and other support activities aided substantially in getting him out of the woods. "There was no day that he did not call to inquire about how I was doing. I cannot tell you how those calls comforted me on my hospital bed here in Nigeria and even when I travelled out for treatment. When I returned, he was among the first to visit. How could anyone forget Ezelue?
No less fascinated, Mark Obu, former Chairman of the section, who later became Vice President of the entire club and now patron, echoed the same sentiments. It was the same Ezelue, he recounted, who helped him settle down immediately right from his first days of stepping into the the section. The relationship therefrom continued to soar due maily to his dexterious human relations and uncommon leadership style even as the two of them enjoyed the exclusive position of Patrons, reserved for reverred members who have served the section.
He went on to regale the audience with further details of a lineup of other exploits that added up to the imagery of a man completely at home with humanity. "He had been directing us as the Patron of patrons. It is very difficult to actually describe the person of Ezelue. But one attribut was that he not only had respect for everyone, he cared for everyone."
His only regret, he said was that a grand reception being planned for the late sage, to celebrate him as the Patron of patrons, which would have been used to celebrate his immense contributions, never materialised until his death, as events continued to crop up that necessitated its being postponed.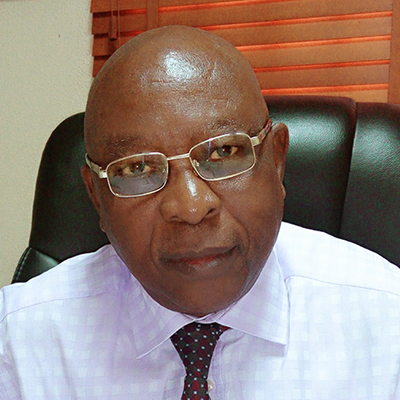 Gbagi
Ochuko Ikueku, a prominent member of the section, who also had his tall tale concluded with these words: "Ezelue loved us so much. He treated everyone like a king and made his resources available not only for all of us in the club, but beyond. It's on record that Ezelue slashed the cost of tickets for his Sosoliso Airlines for students. No other airline did that."
Ike Ashiofu, in his own testimony, spoke on how an almost four decades relationship commenced when as a young man, just back from the US, with only his degrees as his major possession, he was picked up by Ikwuemesi, who practically lent him the ladder to ascend the flights of life and the wings to fly over many obstacles. Details of one of the encounters, sent the audience reeling with laughter. Again, it was Ezelue, he said, that first made the move and ensured that he not only settle down to the game of tennis, but the game of life as well.
It was Ashiefu, who became not only a long term friend of the patriarch, but part of his entire family that gave a further insight of his deep emotional personality, citing how he wept like a baby over the Sosoliso plane crash. "That afternoon, I drove to his house with my entire family. Immediately he saw me, the tears came down in torrents. He was not crying because of anything else by the humanity in him," Ashiefu, said.
Unlike many in his shoes, Ikwuemesi was said to have devoted much of his time and resources to the affairs of God. The account regarding his religious activities came from Patrick Ikemefuna, with whom he participated immensely in the building of the imposing Our Lady Queen of the Apostles Catholic Church, Ilupeju.
Recalling how their parts first crossed at St. Agnes Catholic Church, Maryland, where his passion for the work of God, saw him remitting substantial parts of his resources in donations for the various building projects and other activities of the church, he spoke passionately about how he put capacity to motivate and mobilise human and material resources to achieve results.
"It was from there that we moved to Lady Queen of the Apostles. He was so passionate in a way that it was very difficult understand. When we began building the church at Ilupeju, he was the pillar. In fact, it took us about two weeks to convince him when we wanted to reduce the size of the building. He would not have any of it. He wanted us to leave the original plan of the architects. But the surprising aspect is that he didn't make noise about his donations. He was so silent about it. We miss him.
"This was a man I never saw showing anger openly. If you annoyed him, the worst he would do was to walk out of the scene quietly. We'll miss him. We've lost someone we always went to consult on everything."
From the homefront also came testimonies of a quintessential family man who doted on his family with overflowing love and care. Adaora Onyebuchi, his daughter captured this aspect. Regaling the audience with exciting stories of her father's immense connect with the homefront, she explained how he created a synergy between the club and his home and made the family life virtually revolve around the two.
Like every child with loving parents would, she explained that they never went to bed until their father returned home every night with the special club suya, for which they always danced around him, chanting lustfully in high expectation of the delicacy.
For her, speaking of her father in the past tence was unthinkable. "You can't talk about my dad without the club. You can't also talk about the children without talking about the club. This is where we all grew up. My dad is legendary. I say this, not because he is my father, but because it is true. I can't speak about him in the past, because the memories are so fresh and strong that I believe he is still with us and remains around us.
"His life is exemplary. His legacy lives on because he did a lot for humanity. I don't know where to begin to talk about my dad. What you have said here today is the truth. That you put this together and came to recognise him and his contribution to the club, is a great honour and we his family, cannot thank you enough. From the bottom of our heart, we say, thank you immensely.
Before she spoke, her husband, Mike Onyebuchi, who read his profile, was no less enamoured, with the consummate lifestyle of his father in-law, saying he used his immense resources to better the life of the society from his family to those around him and beyond.
Hear him: "In fact, his demise has created a big vacum that will be hard to fill because of the strategic role he played in the family despite many people which helped to maintain the glory and integrity of the Ikwuemesi family. He was very homely. He remains a frontrunner in the Ikwuemesi family. He was always very careful not to harm or hurt anyone.
Ezelue
"Ezelue, Ebube Ogidi, philanthropist par excellence, man of peace, the peoples man, the pride of the Ikwuemesi family will be greatly missed by his beloved wife, children, grandchildren, in-laws, siblings, relations, Ogidi kingdom, friends and well-wishers."
Words of eulogy, also came from Kola Oyefeso, a trustee of the LCC, whose speech was read by Rasky Gbinigie, former chairman of the tennis section as well. The verdict was not only the same, his conclusion was resounding – Ezelue should be celebrated rather than be mourned, for his spirit already separated from a body, weakened by age and disease, is now free and circulating in bliss, having concluded good work on earth.
Even the many, who did not meet him physically, had enough either in the monuments dotting the landscape, not only in the club, but elsewhere. President of the LCC, Funmi Bankole, stressed this point when he said those who did not meet him would have his legacy in the club as a guide. In fact, Bankole said from such a legacy, he had become an icon of the club and not the tennis section alone, for which reason the entire club was actually mourning as well.
"As a club, we share in the grief of the family and the section. I know the type of icon he was in the tennis section. But he is not only an icon of the section, but of the entire club. Going by all he did, it is impossible for the tennis section alone to claim him to be their property. He is actually the property of the club and the whole club is in mourning at this point in time. On behalf of the club, we say thanks be to God for a life well spent and we say congratulations to the family for the good name he left behind, which is worthy of emulation. Many us will pray and aspire that by the time we are done, people will be able to say of us that we have done our best," he said.
In his erudite treatise, entitled: Ichie Victor Ikwuemesi – In The Pantheon of Tennis Section, LCC, Jerry Ejem, a prominent member of the section, captured the persona of the Ebube Ogidi, more poignantly, describing him as "a man who was as socially gregarious as he was devoted to the observance of rules and regulations. A man who piloted a remarkable development of both the game of tennis and its enabling infrastructure."
He wrote: "Most of our young members may likely not know Ezelue, but they can learn from the legacy he left behind. As chairman of our great Section, Ezelue was the moving force behind the construction of our spectator pavilion, which was finished in record time in readiness for the hosting of Nigeria's first ATP tournament, which was held in our hallowed grounds. That pavilion stands today as a monument to the sacrifice and commitment of our heroes past.
Adaora and husband
"The ATP tournament itself, which was held in 1986 was a tripartite effort - Lagos Country Club Tennis Section, which provided the clay court venue and tennis expertise; the Nigerian Tobacco Company, which contributed the brand sponsorship; and Sheraton Hotel, which provided accommodation.
"It went down in history as a fabulously successful event that proved to be the launchpad for the careers of some of the world's best professional tennis players. Ezelue's managerial prowess and administrative competence shone through in weaving together the fabrics of the tournament.
"There was an international component to Ezelue's leadership of our great Section. The famous 1986 Tour of Hanover was under his watch as chairman. That year, a contingent of our best players toured Hanover, Germany for the love of the game. Folklore has it that Country Club played its heart out, took as much punishment as we meted out to the Germans, and won as many matches as we lost. Rumor has it that our boys drank more beer than the tennis played!
"In his own right, Ezelue was a rampaging tennis player who terrorized the Centre Court, thereby exiling Homo Sapiens (the least favoured court of the six) perpetually to Court 6!"
It was indeed a night of many recollections, one of solemnity mixed with joy and laughter and general conviviality. In those babel of voices at the amphitheatre and the get-together that followed thereafter at the section, Ezelue's character as a man of his people seeed to have been resonated quite loudly.
In the family tradition, Christine, his delectable wife, was not only there to witness the event physically, but even in her mourning mood, still remembered to bring along the needful – a full tray of garden eggs and ose oji, the traditional Igbo peppered groundnut butter, usually handy for transporting down such kola. Though symbolic, the gesture still underscored the fact that the Ikwuemesis never forget.
With that event at LCC-TS, the late icon, has virtually begun his final journey from a place he made his second home and with friends and well-wishers, whom he took as his own kit and kin. On Thursday, the same people will be in Ogidi, this time, not for pure merrymaking as they had done for several years in the past. They would not be there to celebrate Nwafor, the most prestigious festival of Ogidi, the land of legendary Chinua Achebe, Nigeria's gift to the literary world. Rather, it would be another form of celebration - one that would most likely be marked with tears and heavy heart. For they would be there to bury Ezelue, Ebube Ogidi. They will be there to bid a man that had given them so much, goodbye.
On that trip, they would be bringing to a closure a chapter of decades-old relationship, which began with the sad news of the cold hand of death snatching him in London, on April 13, 2020, and perhaps open a new page, etched with the imprints of eternal fond memories.
The Romans once wrote on their walls – Vox Populi Vox Dei – The Voice Of The People Is The Voice of God. At the LCC-TS on Wednesday, October 14, 2020, it was many voices one verdict. If indeed, those words, thousands of years ago, are true, it is a clear sign then that Ezelue, having done so well as to earn those torrents of praises and unblemished testimonial of A Good Man, is indeed in a better place where other person would wish to be at the end of it all. It means those left behind, might as well, celebrate rather than mourn. It means obviously that he is in good hands.
Source Whirlwindnews.com
Posted on October, 18 2020
---
You may also like...

Blatter: Game Over!

Tambuwal: Two years of making a dream Sokoto...

NUJ shreds Fani-Kayode: You acted like a gangster...

In South Africa, a convergence of voices, as...

Isuaniocha murder: DPP wants to bungle the case,...

In Imo, it's now health-at-the-door-step, as Uzodimma flags-off...

Budget of Recovery and Resilience! Full text of...

I'll continue to miss him until I join...