Destroy this Magu, another Magu will rise
By Sunny Igboanugo on 12/07/2020
Views: 824
Magu
On this particular day, I was sitting, tucked away in a corner of the main lobby of Transcorp Hilton, Abuja, nursing the last glass of my beer like a baby and arguing with my conscience whether I should ask for another. I didn't understand why I should pay a staggering N900 for the same bottle of beer I drink at N120 in my tennis club. Okay, they'll always serve it with what they call peanut, baptism for our own groundnuts. Okay make the price of groundnut – peanut N100, the price still comes to N800, for a bottle of beer of N120! I considered against my drinking conscience a complete waste of enormous resources. Blame the craving on whatever!
However, I soon got a form of compensation, if you would call it that. I was actually minding my business, or pretending to be doing so, because, as a reporter, other people's businesses are actually my business. That was how I began eavesdropping into the conversations of this cluster of gentlemen sitting at the table opposite mine.
Theirs were an admixture of jokes, seriousness, pain, gripe and other forms of sentiments as you would find in any gathering where Nigerians discuss their country. I suspect that they were politicians, or if not so, some highly-connected home fellas. But they were certainly Abuja men, ubiquitous men who seemed to know everything about the city. The imprimateur of wheelers and dealers couldn't be mistaken either.
They were actually discussing a lot of subject matters ranging from their girls through the crisis in Nigeria, how poverty was taking over Abuja, the dismal performance of the present government to US politics and all in such interesting perspectives that I couldn't help enjoying the whole environment and forgetting about my beer wahala.
Along the line, as you would expect in any gathering of Nigerians, the chatting soon tapered towards the most popular subject – corruption and got more interesting. What I heard next sent my antenna standing like those of a rabbit trying to pick up danger signals. "Do you know that those EFCC guys have bought up the whole Abuja? They have bought up everywhere," one of them said.
Then the deluge opened like a burst pipe, spilling out the most galling tales of the activities of the men in red. I didn't know whether it was the enormity of the staggering amounts being mentioned or the stark details of each of the transaction or the seeming exactitude of tales – names of some of the buildings, the persons involved, the modus operandi, extortion, sharing formula and all – every detail of the five Ws and H that interested me the most.
I had always prided myself to having steeled up to the socio-political vagaries and oddities of Nigeria that nothing shocks me anymore. But in this one, I was totally shaken at the outlandish details these men spilled out that day. Not that I had no idea about the happenings around the nation's anti-corruption agency, but I never knew that it was that bad.
I even had a personal experience. One of my brothers-in-law, doing business in one of the African countries had come into the country with foreign currencies to buy goods only for the money running into millions in local currency to be seized by the EFCC at the airport. He won his case in court for his money to be returned, but the orders of the courts were ignored. I had wanted to make it a media affair, but the lawyers would have none of it, preferring to go the legal way, so I gave up. I'm sure that money was never released in spite of the victories in court. They were that brazen.
But even this particular case and my bitterness paled into insignificance to the details of what I heard that evening about how the EFCC men went about their business. Stupefaction was an understatement. I was completely scandalised.
In fact, if anybody tells me that Ibrahim Magu, before Monday, July 6, this year, the Acting Chairman of the commission, has bought his own portion of space in the moon, where I hear the new billionaires of the world would be moving soon, I wouldn't totally dismiss it. If a lowly officer could come into an estate and pick up 10 houses and pay for them like fried akara, what then could anyone say about his bosses?
But ask me even with this mindset, even though I believe that EFCC like every other institution in Nigeria is a cesspool that oozes corruption, I will quickly tell you that what is going on there in the last one week has nothing to do with what you're being told.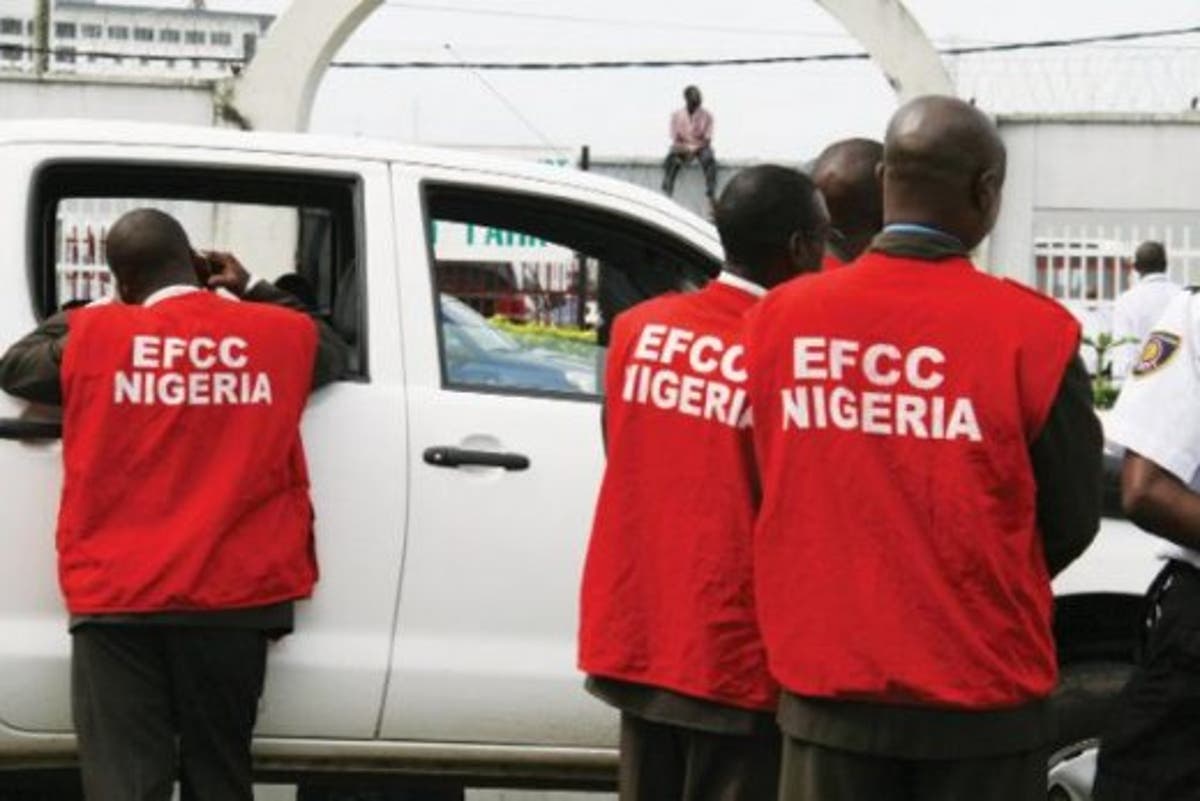 That is why my reaction since the drama around Ibrahim Magu began, is of a different hue. Instead of joining in the frenzy and hysteria, I rather pity Nigerians, especially those who genuinely believe the abracadabra that is going on.
The question that gnaws at my heart is why Nigerians seem so naive. Why should anybody even believe that Magu, from the blast of the whistle ever fought corruption for one day or that those who sent him actually intended him to fight corruption? Are Nigerians the most gullible people on earth?
EFCC ever from Nuhu Ribadu the first Chairman through Farida Waziri to Ibrahim Lamorde and now Magu, had always followed the same pattern - fight the battle of the new power bloc or the President in power while opening the ground for their operatives to have their bazaar.
Because Nigeria is festering with corrupt individuals at every corner, they're never in short supply of candidates to shine with. All they need is just make their pick from overflowing reservoir, mostly the person troubling the President, select some media operators and feed them with salacious stories for onward passage to the gullible society that would lap them up like hungry dogs.
That was how a Ribadu could easily sell to Nigerians the incredulously one-sided story of how he shunned Chief James Ibori's alleged $15million bribe to let him off the hook in his corruption matter.
Yet, the same allegation that trails Magu today, were also made against Ribadu. Listening to Emma Nwude, the man reputed once to be the most successful 419 Nigerian, who was said to have collapsed a whole bank in Brazil and caused the owner to become a beggar, I couldn't help pitying him, even with his odoriferous reputation.
I had quite an earful. Wait until you hear him talk about Ribadu's EFCC in his own account of how everything seized from him went into the hands of the same Ribadu and his friends and how he was even intimidated to hand over assets not connected to the 419 schemes?
Not only that I pitied this man who used to occupy entire suites in the most exquisite hotel around, now confined in this small roomat the Arch Bishop Vining Anglican Church in Ikeja guest house, but as he struggled to make me believe his story that not only he, but me and Nigerians were practically ripped off, cheated and swindled. But who would listen to a confirmed convict?
Do you know that even the said Brazilian on whose behalf he was practically stripped to his undergarments is said to have been scammed - that he never got a single dollar from the whole affair, both in cash, movable and immovable assets seized from Nwude and company? That's the enormity of the allegation and what Nigeria is up against in its anti-corruption war.
I hear that the matter assumed to be dead and buried has since resurrected and that the ghost is all and about chasing at the culprits. I hear that those cheated are already out confessing their roles on how Nigerians who invested their confidence and innocence were scammed and raped. I hear that this time, the Nwude camp is now in court to prove their case that Ribadu's EFCC was a complete fraud as exhibited in the case.
Ribadu himself has also not helped to dispel the ghost of suspicion around him. Remember the controversy about how he dropped N200million to buy the official residence vacated by former Inspector General of Police (IG), Sunday Ehindero and another mansion in Dubai. Remember that some people went to court to unravel how he got the N673million, he reportedly spent on the project.
Just before the 2011 presidential election, I was invited to a colloquium at the Shehu Yar'Adua Centre in Abuja where the presidential candidates were billed to speak including then then President Goodluck Jonathan, Ibrahim Shekarau of Kaduna State, Pat Utomi and of course Ribadu. Only the last two turned up. I couldn't help noticing the irony and incongruity that played out before me at the end of the event.
While Utomi, whose track record as a world renowned economist, celebrated public speaker, former Managing Director of Volkswagen of Nigeria (VON), bank owner and entrepreneur and his team left in two modest Toyota Corolla cars, Ribadu, Nigeria's living saint at that time, in the eyes of his cheerleaders pulled out in a convoy of some exotic, freshly-minted SUVs, even a confirmed President would envy. I couldn't help making the comparison myself.
Utomi with all the tall record of this and that contrasting Ribadu, a retired AIG, whose next only job was the EFCC Chairman, whose entire salary at both jobs could hardly afford two of those cars. Quite amazing! And to think it was an open display to the same audience that are supposed to take you as saint!
I never met him to ask. But I'm sure he would feed anyone that does the familiar line of his friends helping out. There are always such friends and benefactors lining up to dish out favours. But was it not Lee Kuan Yew, who talked about how he set an example with a top official of government by sending to jail for accepting mere lunch from a contractor?
In other words, favours, not to talk about the excessive ones Ribadu claims to be coming from his friends, are on their own corrupt acts in themselves and that he should have been sent to prison for accepting them where anti-corruption war is real.
Besides, coming out as the EFCC Chairman and gunning for a Nigerian President doesn't help his case as a pristine, unblemished person either, because everyone knows what it costs to make that attempt.
Of course, like first EFCC boss, his successors, Farida Waziri and Ibrahim Lamorde, though certainly not as prominent as Ribadu, suffer the same fate - similarly smeared. Expectedly, they have also denied everything, giving the same explanation that it is corruption fighting back. Waziri, has even launched a book to try and cleanse herself.
But in the end, it still boils down not to what you say but what people believe, for those who acknowledge that perception is the message. It also boils down to the saying that it's those that behave like rats that will attract the attention of cats.
Nobody knows how Magu's case will end. A lot of theories have even been advanced, one of them being that it is all a stunt, so that if he is found not guilty, he becomes a phenomenon. But even if not so, some questions will continue to linger.
At what point, for instance, did his accusers get to know about these atrocious activities? Were they deaf when Nigerians were shouting and pointing fingers? When bags of mint Naira notes were tumbling through the conveyor belts at airports and discoveries were being made in supermarkets, plazas, sewage tanks, farmlands and all odd places, why was there so much silence from Magu's accusers at least to help Nigerians interrogate the clearly strange happenings?
When Nigerians were shouting that the loots recovered from their looters, including buccaneers from ex-President Goodluck Jonathan's government should be used to finance Nigerian budgets instead of plunging the country into irredeemable debts, were they not dismissed as wailers ranting against the government?
The same people accusing Magu, have they acquitted themselves like Caesar's wife that must be above board? Have they come to equity with clean hands? Is Abubakar Malami, Attorney General of the Federation (AGF) and Minister of Justice, not himself mired in the controversy of the $15million extracted from the $321million Abacha loot and paid to Nigerian lawyers as "professional fees?" How much does that come to in Nigerian money?
Or does he think by merely speaking legal grammar Nigerians in their stupor, gullibility and imbecility, are comfortable with the oddity in the fact that the Swiss firm which took more than seven years tracing the loot got $12million while the lawyers, who merely wrote letters to the bank where the money was domiciled got $15million?
Yes, if this is not a gimmick, as some suspect, Magu will go, but another Magu will come. In the putrid cesspit that is Nigeria, there will always be a Deziani Alison Madueke, James Ibori, Tarfa Balogun, Orji Uzor Kalu, Ayo Fayose, Femi Fani-Kayode, Dame Patience Jonathan, Sambo Dasuki, Olisa Metuh, to make the new Magu shine.
Such scapegoats, whose only crime, really is that they have fallen off the power ladder rather than any real acts of official sleaze or corruption would be hounded as usual. But in the same boat will always be a Bola Tinubu, Adams Oshiomhole, Musliu Obanikoro, Timipre Sylva, whose allegations would never be investigated or their cases dropped half way, a bankable fact you can be sure of.
Now, assuming you think that Magu would go to jail for the so-called atrocities, banish the thought. They've got what they wanted. They've rubbished him. The highest would be a few days or weeks in detention, the needful would be done and he's out before you know it to join the queue in the club of the ex-harassed. The music will play, people will dance the rytheme and Nigeria will move on. For now, the beat goes on!
Igboanugo, a journalist, writes from Abuja
Source Whirlwindnews.com
Posted on July, 12 2020
---
You may also like...

Messed up Messi, reigning Ronaldo

Tambuwal for President! Why not?

EFCC: Now, may we never have another Ribadu...

Mbaka: Before the tanks roll out on Biafra...

Winter Olympics and Dalung's double standard on Sports...

Drumbeats from Constantine, rushes for Russia

Why Buhari should not dodge the debates

Metuh and the tragedy of impunity