NPFL: Forward, backward
By Ikenna Okonkwo on 10/05/2018
Views: 437
Dikko
Hope was seemingly on the horizon some five years ago when the structure of the country's apex league, the then Nigeria Premier League (NPL), later renamed Nigeria Professional Football League (NPFL) was overhauled under the immediate past administration of the Nigeria Football Federation (NFF) led by Aminu Maigari.
As at then, the league was carved out from an internally-managed system of the Nation's soccer body and handed over to private individuals, who were at that time tasked to reposition the league operations.
Afterwards, those saddled with the fresh responsibility went ahead and renamed the league with the sole reason that driving sponsorship with the name NPL will be counter-productive. So from that time, NPFL took centre stage. League Management Committee was chosen as suitable tag for the managers of the league at the interim before it transformed to League Management Company (LMC).
All the while, one major deciding cluster, Club Owners (Chairmen and Managers of various teams) held sway and kept on scheming for usual electioneering process which actually was or is the 'legal' means that ushers in both the league chairman and his board members to pilot domestic league affairs.
All of a sudden, clamour by these club Chairmen and Managers for elected league officials died down. Initially, many, especially persons within the football fraternity didn't understand the dynamics - how varying discussions metamorphosed to 'juicy' agreement between who is who in LMC and Club Owner.
The exchange among them wasn't my concern when feelers got to me concerning the sharing blueprint (before even Players and technical officials' welfare was later thought of) whenever sponsorship cash drops but the impending doom awaiting Nigeria's domestic soccer drive nearly pulled tears out of my eyes.
Even as supposedly lone voice, I sounded the alarm bell through my medium then, yet Shehu Dikko, incumbent numero uno for LMC who took over from Nduka Irabor when he (Dikko) was one of the influential Directors in the company, kept telling all who cares to listen that expected development of the league system was on course.
Now, the real deal is here. Nigerian clubs at the continental arena are really showing the stuff they are made of. Indeed! The development and even much growth are seen on every corner. Plateau United, Mountain of Fire and Akwa United football Clubs that picked continental tickets last year, have all defeated every opponent on their way and are much ready to win either CAF Champions league trophy or Confederation Cup. Can I hear someone say amen to that...? A big Amen, I'm even shouting from my end.
Anyway, it's no longer news that except Enyimba FC, no other club from Nigeria got to the group stage of the Confederation Cup. Plateau, MFM and Akwa crashed out completely few days ago to both North and West Africa clubs. From when Plateau and MFM were edged out of CAF Champions league to when they were finally shown the exit door at the Confederation level, I have always followed their performance keenly.
As NPFL Champions and vice Champions, the two top teams at the end of 2017/2018 season never impressed anyone immediately they kick-started their continental campaign. At Champions league category, North African clubs ate them raw. When they landed in the lower continental height, even a Malian team took second-best rated MFM club for a dinner in front of their own fans in Lagos before a goalless draw in Bamako crash their progression hopes.
As a result of series of abysmal show, Nigerian status as long as continental league arrangement has been brought to its knees after barely two decades of staying on top.
The verdict according to CAF stipulation, based on the number of clubs from each African participating team is that Nigeria can only present two clubs in all club competitions (Champions and Confederation) as from next year instead of four clubs that have fielded till this year. And so, only one club each will represent Nigeria at each event.
Now, Africa's most populous country has been classified where the likes of Ethiopia, Gambia, Swaziland, Angola and Gambia are. What a derision! The league is back to the dark days. Who cares? When Leaders amongst Club Owners have been settled long ago and are still enjoying the currencies from the 'Commonwealth of LMC'.
Alas! No one remembers Players' welfare and the standard of pitches'. Many noises go out in form of threat to clubs, concerning payment of footballers' salaries backlog and renovation of teams' stadium facilities or re-grassing of pitches. But at the end, no drastic measures are taken.
Yes, clubs are currently winning either at home or away. However, alleged match fixing is now on the rise. The usual 'kalee' can take place anywhere, presently.
I can assure you that so far Club Owners and LMC's big Guns continuously work 'harmoniously', nothing good and sustainable will come out of NPFL.
For the record, the last time Nigeria made meaningful impact at the continental point was in 2009 when Kano Pillars and Heartland reached semi-final of CAF Champions League. Enyimba are the only side to have won the African top diadem twice, between 2003 and 2004.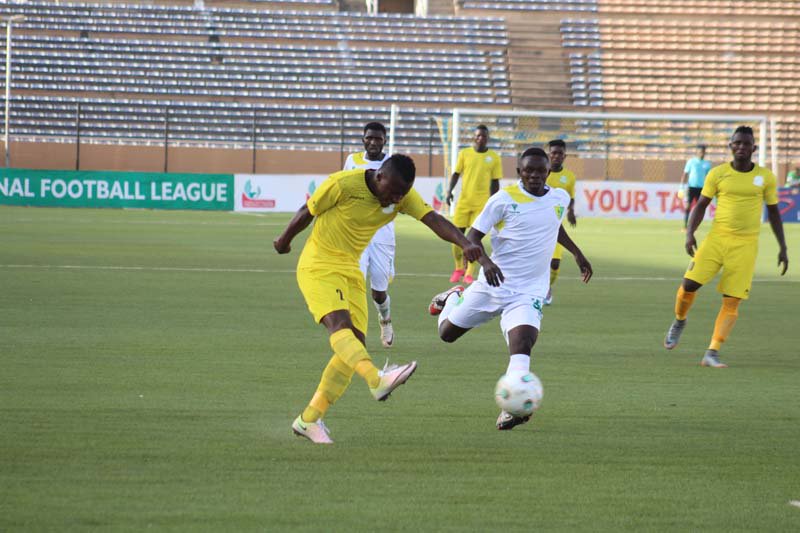 Source Whirlwindnews
Posted on May, 10 2018
---
You may also like...

Nigeria 2015: My position

Sports Facilities' decay and the hypocrisy of Nigerian...

The Travails of Moses

Metuh and the tragedy of impunity

Fashola is not a saint, he is a...

Uyo electricity distribution company office sealed off

'Money miss road' at glasshouse

NFF logjam: A cause with a curse