Crashed hope for Nigerian 'young' footballers
By Ikenna Okonkwo on 03/03/2018
Views: 430
Pinnick
In just four days, Nigeria's woes in global soccer especially as it concerns cadet representation know no bound. Last Sunday, exactly on February 18, 2018, the country's Under-17 Women team, Flamingos for the first time failed to qualify for FIFA cadet championship otherwise known as U-17 Women World Cup after they couldn't survive Cameroonian firepower in a two-legged qualifier game.
On February 22, another shocker descended from Abidjan, Ivory Coast, venue of maiden West Africa Football Union (WAFU) tournament which will end this weekend and it panned out that Africa's Women best team, Super Falcons lost to their Ghanaian counterparts in the semi-final.
This same Nigerian senior Women Squad had won virtually every edition of African Women Championship (AWC) (ideally the continental version of Women's Nation Cup) in the past, including the last edition that held in 2016 at Cameroon. It is now disheartening to note that many times African champions have eventually began to struggle at the regional level (West Africa).
In fact, Ghanaian Coach whose side defeated Nigerian girls 5-4 through penalty shoot-out and will host 2018 AWC boasted immediately after; "Nigeria will never defeat Ghana, again." Were you surprised to hear that? I don't blame the tactician from the gold coast. I can only fault Administrators at Glasshouse who have refused to make hay while the sun was shining.
After winning AWC in 2016, when Florence Odegbami who later emerged as Africa's best female coach was in charge of Super Falcons on interim terms, Amaju-Pinnick led Nigeria Football Federation (NFF) turned blind eyes on them to the extent that the team had no single activity throughout last year.
In the wake of 2018, only few days to ongoing WAFU event in Cote D'Ivoire, NFF Board engaged new Gaffer (a foreign coach) for the team who led them to attend first ever regional soccer championship for Women. The outcome of unpreparedness, disorganisation and maladministration is what every football Stakeholder has seen. Our darling Falcons has been turned to object of regional stock with no meaningful impact. I know some would say after all, those that are taking part in the tournament are not in the 'main' stream of the team. I agree. But don't also forget that the situation is not entirely different with other countries parading players from their various domestic leagues.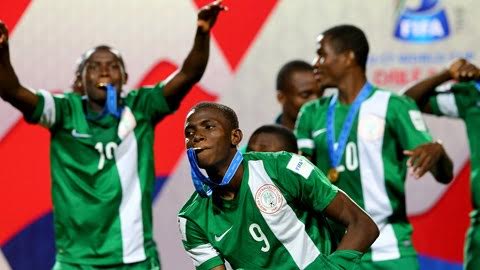 After action ceased in later part of 2017, no female player in any of the Nigeria Women Premier league has kicked football since then. Yet NFF has blatantly assembled some of them to represent supposed Africa's most populated Nation at WAFU without adequate preparation.
The Flamingos had suffered similar (quick fire approach) fate before they began qualifier campaign ahead of this year's FIFA Under-17 Women World Cup. The young girls who are supposed to be amateur players, still learning how to kick and hold balls, were assembled within ten days and were meant to face Ethiopia during their first fire of qualifying baptism. They managed to scrap into the next stage of the qualifiers before their Cameroonian opponents pushed them aside and moved on.
Apart from Flamingos and Super Falcons' team B nemesis; there has been virtually no remarkable move to reposition cadet soccer system in Nigeria in past two or three years. Under the watch of current NFF leadership, Nigeria couldn't qualify for under -17 and 20 Men African championships in the same period. When things seem to be moving at least on the average, Nigeria won FIFA under-17 World Cup a record five times since 1985.
Who knows if the likes of Kelechi Iheanacho, Wilfred Ndidi, Taiwo Awniyi among other young players who were path of focused under 13/15 programme of NFF under the then President Lulu Abdulahi would have shot to lime light but for their consistent trainings and inclusion into the cadet championships in Africa and beyond.
And so, the dwindling story never stops. The only expertise anyone expects from glasshouse especially since 2014 is always an emergency approach to football development. At some point last year, the under-15 male team needed to attend one invitational event outside Nigeria, some bunch of coaches who hurriedly got the team together, were immediately gathered.
I only wish or pray that the current coaching arrangement for Flying Eagles (Nigeria U-20 male team) which was announced by the Nation's football leaders some days ago won't end up crashing like their colleagues. As usual, head coach, Paul Aigbogun few hours ago, hastily announced a 28-man list that would feature during the qualifying series for 2019 African U-20 Cup of Nations.
An official press release from NFF's Spokeman, Ademola Olajire directed all invited players to arrive at the Serob Legacy Hotel, Wuye, Abuja between Sunday and Monday, with their international passports, birth certificates and training kits.
I'm sure these set of cadet players will be meant to literally train with either 'single hired or borrowed' jerseys which should be washed once after each training session ahead of another training period.
Isn't it a shame that National players and officials in camp will have to scramble for training kits while on national duties when the football federation is meant to be enjoying enough supply from kits sponsors, NIKE? Let there be change of style at Glasshouse!
Source Whirlwindnews
Posted on March, 3 2018
---
You may also like...

DSS, EFCC and the bitter lessons from the...

Tambuwal: Daring to be different in leadership

Drumbeats from Constantine, rushes for Russia

Messed up Messi, reigning Ronaldo

Ibori and the dangers of the Single-story

The change Nigeria's Para-Sports needs

Fashola is not a saint, he is a...

War on judges: Selling the dog and buying...