BREAKING: 61 perish, as powerful earthquake hits Iran
By Editor on 13/11/2017
Views: 183
Rubbles from the earthquake
A magnitude 7.2 earthquake hit the region along the border with Iraq on Sunday, killing at least 61 people and injuring 300 in Iran, an Iranian official said.
Iranian state TV said Iraqi officials had reported six deaths and 200 injuries in their country, though there was no official comment from Iraq's government.
The U.S. Geological Survey said the quake was centered 19 miles outside the eastern Iraqi city of Halabja.
The Islamic Republic of Iran News Network quoted the head of the country's emergency medical services, Pirhossein Koulivand, as saying at least 61 had been killed and 300 injured on Iran's side of the border.
Iranian state TV also said Iraqi officials reported at least six people dead in Iraq, along with more than 50 people injured in Sulaymaniya province and about 150 in Khanaqin city. No reports were immediately available from Iraq's government.
Koulivand earlier told a local television station that the earthquake knocked out electricity in Iran's western cities of Mehran and Ilam. He also said 35 rescue teams were providing assistance.
Iranian President Hassan Rouhani, in a phone call with the Interior Ministry, emphasized the need for maximum effort from officials.
Iranian social media were abuzz Sunday night with posts of people evacuating their homes, particularly in Kermanshah and Qasr-e Shirin.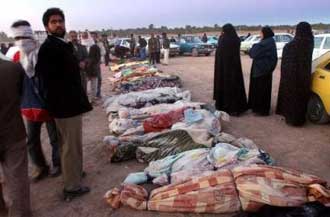 Mourners with some of the victims
Iran's semiofficial news agency ILNA said at least 14 provinces in Iran had been affected by the earthquake.
Officials announced that schools in Kermanshah and Ilam provinces would be closed Monday because of the temblor.
Iran sits on many major fault lines and is prone to near-daily quakes. In 2003, a magnitude 6.6 earthquake flattened the historic city of Bam, killing at least 26,000 people.
Source Los Angeles Times
Posted on November, 13 2017
---
You may also like...

Subsidy returns, as FG seeks end to fuel...

New Police Commissioner resumes in Ekiti, NMA downs...

From Abakaliki, Nigeria Taekwondo train heads to Makurdi...

BREAKING: Bianca responsible for Ojukwu's death – son...

How Fayose was saved – Ex-Minister *Warns against...

BREAKING: Saraki bows, hands over juicy committee to...

Zukerberg in passionate letter to Trump, says: You're...

Buhari's hammer falls on PDP ambassadors *Tafida, Ojukwu,...