Anambra Guber election: IPOB backs down on 'stay-off' order, withdraws threat
By Editor on 18/08/2017
Views: 243
The Indigenous People of Biafra (IPOB) has withdrawn its threat to disrupt the November 18 governorship election in Anambra.
The decision was reached after a meeting organised by a non-governmental organisation, the Ala-Igbo International Foundation (ADF) with the leader of IPOB, Nnamdi Kanu in Owerri, Imo State.
The leader of the Foundation, Professor Uzodinma Nwala, said after much deliberations which is still ongoing, IPOB has assured the Igbo leaders that it won't disrupt the November 18 governorship election.
People who are eligible to vote have also been told to go out and exercise their franchise without fear of molestation.
Nwala added that the group met Kanu for the first time on the issue and revealed the plans to hold subsequent meetings with him.
The Ala-Igbo Development Foundation is an Igbo group that brings together Igbo academics, elders, clerics, patriotic public figures, women and youth, both at home and abroad.
Kanu had said the November 18 governorship election in Anambra would not hold if the federal government fails to conduct a referendum on Biafra.
At the meeting, Kanu reportedly said IPOB is not a violent group and also promised to consult with the group's leadership concerning the boycott order.
"I came because of my respect for elders. IPOB is not a violent group. We are law-abiding citizens of the society," he said.
"What we discuss here today will guide us in the issue of Anambra election. I will go and meet with the leadership of IPOB."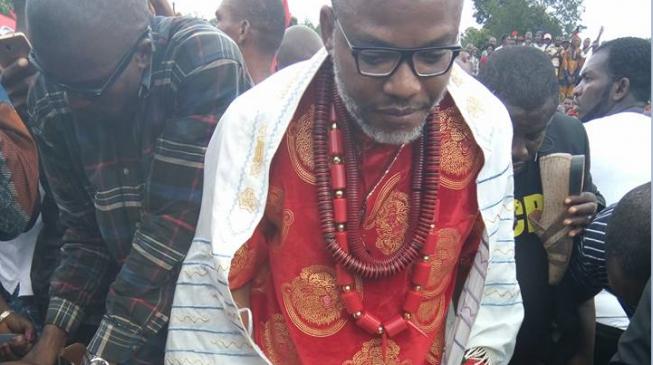 Kanu
Posted on August, 18 2017
---
You may also like...

Angry Ohanaeze: Killers of our defenceless youths must...

We can't be arm-twisted, Anambra Tribunal warns

How Boko Haram ambush on oil exploration claimed...

Top stars stay away, won't play for Trump...

I will unravel brains behind NFF fire incidence...

Gunmen kill 10 in Benue village

Alaibe to MEND: Stop dropping my name, I...

Ronaldo beats Pele's record, bangs hat-trick for Portugal...