In Buhari's absence, IBB, Obasanjo, Abdulsalami allegedly plot successor ahead 2019 general elections
By Editor on 06/08/2017
Views: 471
Though, ailing President Muhammadu Buhari is yet to decide whether he would contest for a second time in office in 2019 or not, it is glaring that the country's power brokers and kingmakers are already in search of his successor.
According to The Sun, President Buhari who has been in London for over 90 days on medical vacation may have lost interest in a second term in office and consequently has forced the power brokers out to scout for a new leader to succeed him.
Details of the meeting could not be ascertained but there are indications that the pass leaders met to discuss matters affecting the country in the face of agitations and significantly, health of the president.
However, in a new development, the Sun is now reporting that the discussion of the meeting which was not made public was dominated by President Buhari's successor.
Consequently, the generals had agreed that the next Nigerian president must be below 70 in age but may come from any tribe or region.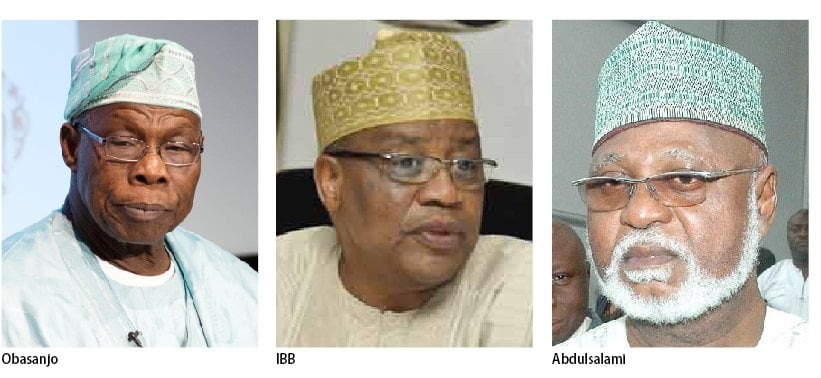 A source close to the leaders told the Sun that: "It was agreed that the next president must be under 70, must be a pan-Nigeria personality from any part of the country. Ethnicity and religion must also not be a barrier."
The source also claimed that "they considered some top politicians who have indicated interest, even though quietly, in the race and they zeroed in on a few they could identify on the spot, who also met their set criteria.They include:
1. Rabiu Musa Kwankwaso (60)
A former governor of Kano and now a serving Senator. He is 60 years old.
2. Aminu Waziri Tambuwal (51)
The current governor of Sokoto state. He is 51 years old.
3. Donald Duke (55)
A former Cross River state governor. He is 55 years old.
4. Adams Oshiomhole (65)
The immediate past governor of Edo state. He is 65 years old.
They are all from the ruling All Progressives Congress, APC.
Meanwhile its already 90 days today, August 5, since President Buhari departed Nigeria to the United Kindgom in a bid to seek treatment over his failing health.
Source Sun
Posted on August, 6 2017
---
You may also like...

No more dollars for school fees, medical tourism...

Buhari on planned protest: Tuface, others are agents...

S'African police kill one Nigerian, another abducted *Residents...

Prove N13bn discovered by EFCC belong to Rivers,...

BREAKING: Applause as Eagles wire Luxembourg 3-1 in...

EFCC 're liars! Ibru away for treatment, not...

Fayose to Buhari: Nigerians are tired of your...

Army releases emergency phone lines on Operation Python...