BREAKING: Incumbent wins Iran Presidential election
By Editor on 20/05/2017
Views: 370
Iran's reformist President Hassan Rouhani has emphatingly won the country'spresidential election, according to official results, fending off a challenge by principlist rival, Ebrahim Raisi.
With nearly 40 million votes in Friday's hard-fought poll counted so far, Rouhani was leading the race with 56.88 percent, the interior ministry said on Saturday. Raisi, his closest rival, won 38.55 percent of the vote.
Mostafa Mirsalim, a conservative, got 1.13 percent, while reformist Mostafa Hashemitaba got 0.52 percent.
A big turnout on Friday, estimated at more than 40 million out of 56 million registered voters, led to the vote being extended by several hours to deal with long queues.
Official final results are expected later on Saturday.
The election was seen by many as a verdict on Rouhani's policy of opening up Iran to the world and his efforts to rebuild its stagnant economy.
Rouhani swept into office four years ago on a promise to reduce Iran's international isolation.
Friday poll was the first since he negotiated a historic deal with world powers in 2015 to curb the country's nuclear programme in exchange for sanctions relief.
In the campaign trail, Rouhani sought to frame the vote as a choice between greater civil liberties and "extremism", criticising the continued arrest of reformist leaders and activists.
Raisi, for his part, accused Rouhani of mismanaging the economy and positioned himself as a defender of the poor and calling for a much tougher line with the West.
Political commentator Mostafa Khoshcheshm said that in contrast to the 2013 election campaign, when Rouhani spoke about the removal of sanctions and the improvement of the economy, this time his message was different.
"He resorted to other campaign slogans, like [calling for] social and political freedom, and he pushed the boundaries in order to gather public support, especially in large cities," Khoshcheshm told Al Jazeera.
"If he has secured this result, it's because of the large cities and the middle class society living there - they have voted for him and made him a president and they expect him to do his promises."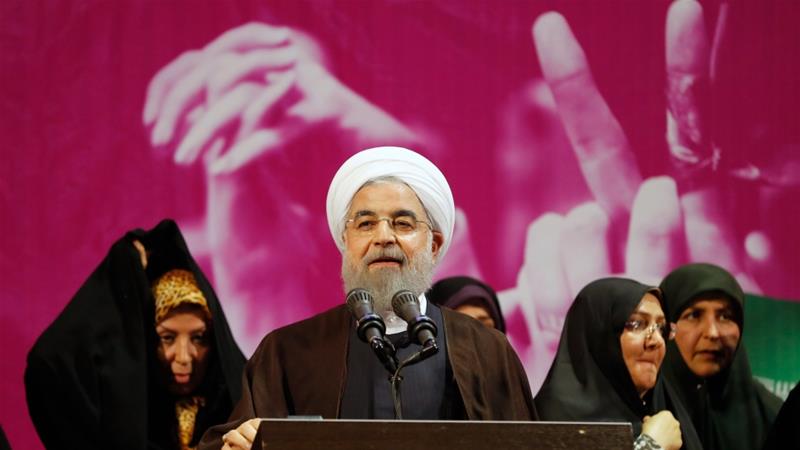 Rouhani
Source aljazeera
Posted on May, 20 2017
---
You may also like...

All my enemies end up terribly – Fani-Kayode...

Reps grill NIA DG, Kingibe over missing monies...

BREAKING: EFCC declares Nyako, Son wanted

Buhari lines up committees for new minimum wage,...

BREAKING: Many reportedly feared dead as bomb blast...

Invasion of Lassa fever: 11 Persons declared dead...

Shine your eyes – Ize-Iyamu tells Edo voters...

Lagos wife 'murder': The public may have goofed...