BREAKING: Protesting black group blocks London airport over discrimination
By Editor on 06/09/2016
Views: 578
Flights have been disrupted at London City Airport after a group of black protesters occupied a runway this morning, on Tuesday morning, preventing planes from taking off and landing.
Police were called to the airport at 5.40am to reports protesters were demonstrating on the runway, over issues relating to alleged discrimination, The Independent, is reporting.
The protesters belonging to a group known as Black Lives Matter, reportedly bypassed security by using a rubber dinghy to cross the docks, according to eyewitnesses, while the police say nine protesters on the runway have locked themselves together.
A Met Police spokesperson said no arrests have been made and they are waiting for specialist resources to "unlock" the protesters.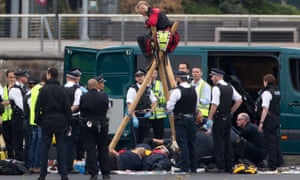 The protester
Flights from the airport have been delayed and all flights due to land have been diverted to Gatwick and Southend airports.
In a statement, the group stated the reason for the protest, saying: "This action was taken in order to highlight the UK's environmental impact on the lives of black people locally and globally.
"As the largest per capita contributor to global temperature change and yet among the least vulnerable to its deadly effects, the UK leads in ensuring that our climate crisis is a racist crisis."
The group added that the planned expansion of London City Airport "consigns the local community in Newham to further deterioration of their environment."
The paper, quoted a witness, who told Evening Standard that "they got onto the runway using a rubber dinghy from the dock.
"They are on the runway surrounded by police. I'm not sure if they are chained together but they are huddled together."
Last month, Black Lives Matter staged protests in London, Birmingham, Nottingham and Manchester as part of a "nationwide shutdown," calling for greater awareness of discrimination against black and minority ethnic communities following a spate of shooting in the US.
Ten Black Lives Matter UK activists were arrested after demonstrating near Heathrow.
Source Whirlwindnews.com
Posted on September, 6 2016
---
You may also like...

Biting economy: Zenith Bank sacks 1,200 workers

BREAKING: Man U down hard-fighting Rostov, zoom into...

PDP to Nigerians: You've been invaded by rogues...

No plan to Islamise South - Sultan *Says...

BREAKING: Multiple Blasts rock Biu Town

Plateau United crowned champions, Shooting Stars, Gombe, ABS,...

BREAKING: Again DSS shuns court order, hedges on...

Arrest Ali Modu Sheriff now, PDP tells Police...