Benin President does it Jonathan's way, concedes defeat after presidential run-off election
By Editor on 21/03/2016
Views: 616
Benin's outgoing Prime Minister Lionel Zinsou has conceded defeat to businessman Patrice Talon in Sunday's presidential run-off.
Mr Zinsou posted on Facebook that he had called Mr Talon to congratulate him "on his victory and wish him luck".
President Thomas Boni Yayi is stepping down after two terms.
Polls took place in four other African countries over the weekend, including Congo-Brazzaville, Cape Verde, Niger and Tanzania's Zanzibar islands.
Mr Talon, known as the "king of cotton", used to be a close ally of Mr Boni Yayi, but was accused of masterminding a plot to poison him in 2012.
"The provisional results point to a decisive victory for Patrice Talon; the difference is significant, electoral victory is certain" Mr Zinsou told the AFP news agency by telephone.
This is a turnaround from the first round vote last month when Mr Talon came slightly behind Mr Zinsou with 25% compared to his 28%.
Benin's electoral commission is expected to formally announce the provisional results later on Monday.
The opposition also won in Cape Verde's elections on Sunday.
The Movement for Democracy (MPD) has won an absolute majority, defeating the governing African Party for the Independence of Cape Verde (PAICV) for the first time in 15 years.
Sunday's vote in Tanzania's semi-autonomous archipelago of Zanzibar was a re-run after the results of disputed local elections in October were cancelled.
Incumbent President Ali Mohamed Shein has won a landslide victory, with the governing CCM party taking more than 90% of the vote in a disputed re-run.
The opposition CUF party boycotted the vote, saying its candidate Seif Sharif Hamad won the poll in October.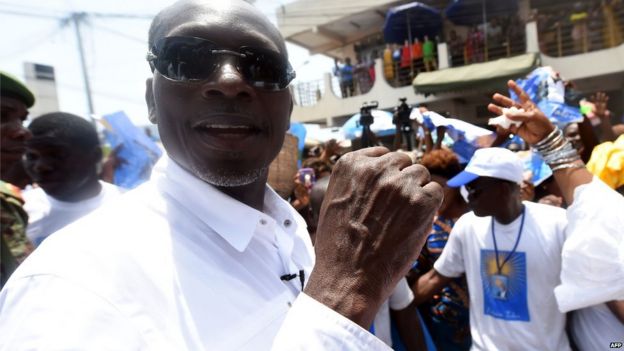 Talon
Posted on March, 21 2016
---
You may also like...

INCREDIBLE! Man, fiancee, relations kidnapped hours before wedding...

We won't fire a single bullet to achieve...

BREAKING: Another tragedy in Lagos; building collapse sends...

BREAKING: Colombian plane carrying 81, Brazilian players crashes...

Death of another student: Angry Queens College parents...

Chanchangi Owner reportedly drops dead

Yoruba governors: We met to deal with biting...

Eligibility: Obanikoro knows fate March 5