US Election: 'Talking' Trump, Sanders thump Cruz, Clinton in Hampshire primaries
By Editor on 10/02/2016
Views: 693
Clinton
Republican Donald Trump and Democrat Bernie Sanders have shaken up the US presidential race with decisive victories in the New Hampshire primary on Tuesday.
Ohio Governor, John Kasich, came second in the republican vote, with former Florida Governor, Jeb Bush, Texas Senator, Ted Cruz and Florida Senator, Marco Rubio all vying for third place.
In the democratic race, Senator Bernie Sanders, who beat rival Hillary Clinton by a huge margin, said his victory showed people want "real change".
Analysts said that both candidates were riding on a wave of discontent with mainstream politics.
New Hampshire is the second state to choose delegates in the long nomination battle following last week's Iowa caucuses, which were won by Mr Cruz for the republicans and Mrs Clinton for the democrats.
Cruz

With close to 90% of the votes counted, Senator Sanders has a lead of more than 20 percentage points over Mrs Clinton in the two-horse race for the Democratic nomination. He had topped polls in New Hampshire in recent months, but it is still a significant victory for the self-described Democratic socialist candidate.
The result gives momentum to the winners ahead of the next contests in South Carolina and Nevada.
The CNN reports that New Hampshire also delivered a painful personal blow to Hillary Clinton, who squeezed out the narrowest of victories in Iowa last week.
The scale of her defeat by more than 20 points is likely to fuel signs of growing internal rancor in her campaign and complaints by Democrats that her message as a progressive, who gets results, is no match for Sanders' heady demands for a political revolution, which has inspired younger Democratic voters.
The loss was especially rough because New Hampshire has long been kind to the Clintons.
It's the state that made Bill Clinton the "comeback kid" in 1992. Hillary Clinton beat Barack Obama there in 2008, salvaging her campaign after a third-place showing in Iowa.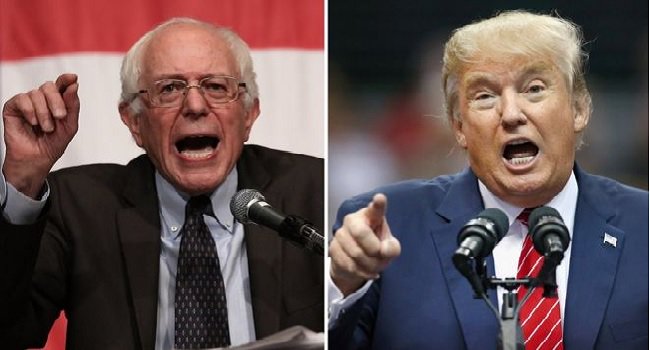 Sanders and Trump
Source Agency Report
Posted on February, 10 2016
---
You may also like...

Chris Giwa joins PDP ahead 2019 general elections...

Uproar as INEC's Card Reader fail in Enugu...

BREAKING: South Africa appoints new coach ahead Eagles...

Kogi: Bello in N6billion vehicles saga *My officials...

Traders protest shut down Aba

I am not desperate to continue in office...

Okorocha laments plight of Ndigbo under Buhari, APC...

New hurdles as Eagles face difficult World Cup...