BREAKING: Buhari fires Service Chiefs, set to announce replacement
By Editor on 13/07/2015
Views: 786
Buhari
President Muhammadu Buhari has fired Nigeria's Chief of Defence, and the heads of Army, Navy and the Air Force.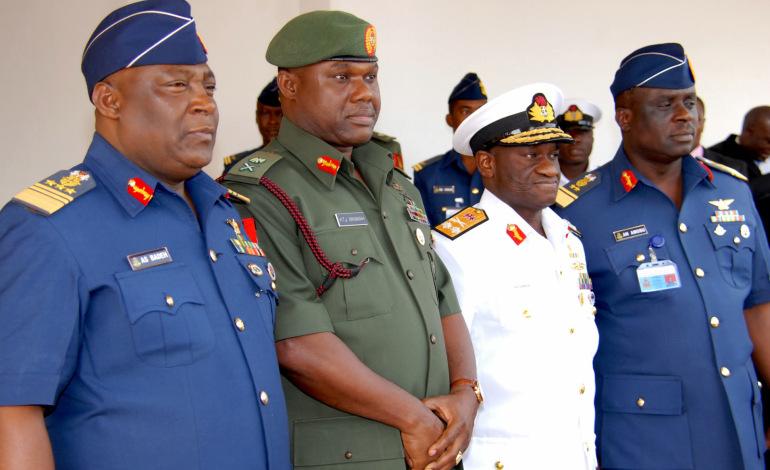 The service chiefs were relieved of their appointments Monday. They were appointed by former President Goodluck Jonathan.
The affected officers are Alex Badeh, chief of defence staff; Usman Jibrin, chief of naval staff, Kenneth Minimah, chief of army staff and Adesola Amosu, chief of air staff. All of them were appointed by former president, Goodluck Jonathan, on January 16, 2014.
Badeh took over from Ola Sa'ad Ibrahim; Minimah replaced Azubike Ihejirika; Jibrin succeeded Joseph Ezeoba and Amosu became chief of air staff following the elevation of Badeh.
Since he assumed office on May 29, Buhari has met with the dismissed military chiefs on three occasions.

Their replacements were not immediately announced.
Their stay has witnessed intensified attacks by Boko Haram in the last one month, with multiple suicide bombings and gun attacks killing hundreds of people.
Military experts said the service chiefs expected they would be fired any day, as such, they were hardly settled for the complex war against Boko Haram.
Detail coming...
Source Whirlwindnews.com
Posted on July, 13 2015
---
You may also like...

Ekweremadu to oppenents: Your new plot will fail...

Blame PDP for Buhari's foreign medical trips -Aide...

APC Crisis: Saraki, Akande, Tinibu plan to part...

FIFA U-20 W/Cup: Ghana, New Zealand advance, Argentina...

Umahi: If you have no farm, you can't...

Rerun poll: PDP wins in Kogi, INEC declares...

Purported visit of APC Leaders, Governors, insult on...

Vacate Kashamu's residence - Court... No we won't...